Strategic Data for the Brazilian Medical Equipment Market
The medical equipment market in Brazil is encouraging. The industry, which had already been growing through to 2019, continued to expand even during the COVID-19 pandemic.
According to the Brazilian Medical Devices Manufacturers Association (ABIMO), the medical industry's gross value of production was BRL 17.9 billion in 2021, up by 36% from 2020 – when it amounted to BRL 13.2 billion.
This trend mirrors the growth of the hospital market as a whole, which, according to Statista, is expected to reach a revenue of USD 60 billion in 2022, growing at an annual rate of 7.91%.
The Fastest-Growing Areas in the Brazilian Medical Equipment Market
Global Health Intelligence (GHI) places an important focus on the overall market trends. In countries like Brazil, however, our research is mainly concentrated on more specific areas – such as the medical equipment categories with the greatest growth in this market.
This strategy has been devised with our customers in mind, as they lead sales and marketing efforts in the medical equipment market in Brazil and need to understand where the best opportunities for expanding sales and introducing new products can be found.
We have recently found that the types of medical equipment that recorded the greatest growth in Brazil in 2021 are:
PET (Positron Emission Tomography) scanners – 70% growth
Ventilators – 26% growth
Echocardiograms – 11% growth
However, when we went back and tracked this growth from 2018, we discovered that both specialized equipment (such as robotic surgery systems) and basic equipment (such as ventilators and infusion pumps) have grown significantly in Brazil, since it is the country's hospitals that have most increased their arsenal of these types of equipment.
Growth Is Not Synonymous with Penetration
Even though various types of state-of-the-art technology equipment – such as robotic surgery systems – have appeared with increased frequency, basic equipment has generally shown much greater penetration than specialized equipment both in Brazil and in the rest of Latin America.
According to this year's edition of HospiRank, a survey carried out by GHI offering more than 140 data points per hospital and covering almost 90% of the hospitals in the region, the basic equipment counts exceed those of specialized equipment by a good margin. Some interesting data on basic equipment penetration levels in Latin American hospitals are given below:
Electrocardiographs – 86%
X-ray machines – 75%
Ventilators – 65%
Ultrasound machines – 78%
Infusion pumps – 66%
Anesthesia machines – 63%
Patient monitoring systems – 71%
For comparison, the penetration levels of some specialized equipment types are:
CT scanners – 35%
Mammography systems – 27%
Angiograms – 12%
Gamma cameras (scintillators) – 4%
Linear accelerators – 2%
Radiotherapy machines – 2%
PET systems – 1%
Robotic surgery systems – 1%
General Hospital Infrastructure in Brazil
To get a better understanding of the context of the hospital equipment market, it is important to understand the overall market in the country. Some data on Brazilian hospital infrastructure as revealed by HospiRank 2022 are given below:
Number of hospitals – 7,488

% Public – 37%
% Private – 63%

Number of hospital beds – 461,878

% Public hospital beds – 37%
% Private hospital beds – 63%

Number of operating rooms – 223,155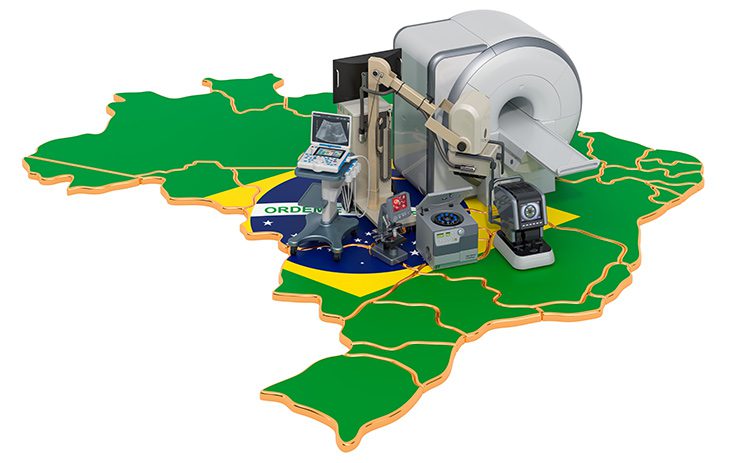 The Best-Equipped Hospitals in Brazil
Up-to-date knowledge of the equipment market is also useful for sales teams to identity interesting leads. Recent GHI data revealed by HospiRank shows that many of the best-known hospitals in Brazil are also among the best equipped. From these we highlight the three main hospitals in three different categories:
For hosting patients:
HOSPITAL DAS CLÍNICAS DA FACULDADE DE MEDICINA DA UNIVERSIDADE DE SÃO PAULO: 1400 inpatient beds | 750 outpatient beds
HOSPITAL CENTRAL DA SANTA CASA DE MISERICÓRDIA DE SÃO PAULO: 850 inpatient beds | 750 outpatient beds
SANTA CASA DE MISERICÓRDIA DE BELO HORIZONTE: 1050 inpatient beds | 270 outpatient beds
For high procedure count:
HOSPITAL DAS CLÍNICAS DA FACULDADE DE MEDICINA DA UNIVERSIDADE DE SÃO PAULO: 98 operating rooms
IRMANDADE DA SANTA CASA DE MISERICÓRDIA DE PORTO ALEGRE: 95 operating rooms
HOSPITAL BENEFICÊNCIA PORTUGUESA DE SÃO PAULO: 64 operating rooms
Highest count of basic surgical equipment:
HOSPITAL ISRAELITA ALBERT EINSTEIN: 49 operating tables | 124 electrocautery machines (basic/advanced) | 103 anesthesia machines
HOSPITAL DE CLÍNICAS DE PORTO ALEGRE: 27 operating tables | 8 electrocautery machines (basic/advanced) | 78 anesthesia machines
HOSPITAL CENTRAL DA SANTA CASA DE MISERICÓRDIA DE SÃO PAULO: 50 operating tables | 11 electrocautery machines (basic/advanced) | 41 anesthesia machines
It is also worth pointing out that several less well-known Brazilian hospitals also have large counts of installed base equipment, including the Real Hospital Português, in Recife, with 96 electrocardiographs, and the Hospital de Caridade Dr. Astrogildo de Azevedo, in Santa Maria, in the state of Rio Grande do Sul, with 18 operating tables.
Download HospiRank 2022 now to access the complete data.
Next Steps
Contact us to get even more specific data that may help your business. The GHI options include:
– Subscribing to our database so that your team has access to such information as the equipment counts in Brazilian hospitals, the most common operations performed in the country, and much more.
– Hiring our team to develop a customized study for the specific strategic issues of your business.
– Working with our team to map out your company's market share and that of your competitors in the different medical equipment and device categories.
Get access to all the detailed market data that can unlock exciting opportunities and strengthen your planning for 2023 and beyond.