Demand drives sales, but in LatAm healthcare, gauging demand with hard numbers has been all but impossible… until now.
SurgiScope reveals the procedures performed in Latin American hospitals, displaying the demand drivers that can grow your sales. In SurgiScope you´ll find:
+
0
INSTITUTIONS
Both Public & Private
Surgical, Therapeutic and Diagnostic

The Value of Going Granular
You can search SurgiScope in two useful ways: the first is by procedure name, which will list all the hospitals in which the procedure has been conducted. The second is by hospital name, allowing you to see all the procedures performed in the selected hospitals.
So if you search for a procedure such as angioplasty, you´ll find hospitals that perform these procedures and in which quantity and these can be excellent targets for selling stents and other equipment used in this procedure.
Focusing your search on hospitals allows you to see which procedures these hospitals are performing the most, which obviously makes them strong cross-sell target for equipment and other devices.
SurgiScope´s data delivers subscribers several key advantages:
VERACITY

There's no guesswork or rough estimates as to who the next big clients will be: the procedures show what the hospitals are really doing… and most importantly, the tools they need to do it.

VELOCITY

Searches on SurgiScope are fast, which means your sales team will quickly receive data showing them hot prospects so they can start selling.

VERSATILITY

SurgiScope data isn't just an asset for equipment and device manufacturers: pharmaceutical companies can benefit greatly from knowing procedures, since their medicines are used in practically in all phases of treatment, from diagnostic to ongoing recovery.
Depth and Breadth
Among the thousands of diagnostic, therapeutic and surgical procedures you´ll find in SurgiScope are:
Angiography
Angioplasty
Appendectomy
Blepharoptosis repair
Bone marrow biopsy
Bone mineral study
Cardiac transplant
Cataract removal
Cesarean section
Cholecystectomy (gallbladder removal)
Closed bronchial biopsy
CT scan
Dermabrasion
Dialysis
Elbow replacement
Endarterectomy
Esophageal manometry
Esophagostomy
Free skin graft
Gammagraphy
Gastrectomy
Hemorrhoidectomy
Intestinal anastomosis
Laparoscopic lysis
Lithotripsy
Lumbar fusion
Mastectomy
Nephrostomy
Otoplasty
Pericardiectomy
Polysomnography
Prostatectomy
Proximal gastric bypass
Stress test
Tonsillectomy
Unilateral repair of inguinal hernia
Varicose vein remove
Vasectomy
Markets Covered
SurgiScope currently offers data for Brazil, Mexico, Colombia and Chile. Data is available for full year 2017 in all markets except Chile, which holds 2016 data. Data presentation varies by country and may include both public and private institutions, depending on the country.
The development team is working on expanding the product's reach to new markets.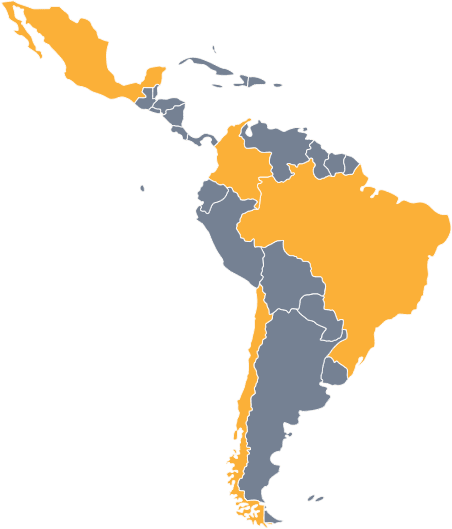 Incisive Analysis + Latest Industry Developments
Our GHI Analysis section brings a fresh and focused perspective on LatAm´s dynamic healthcare industry to help you identify opportunities and grow in emerging markets.