Through years of development and constant updates, Global Health Intelligence (GHI) has created HospiScope—the world´s largest hospital database focused on Latin America. Key features include:
+
0
DATA POINTS PER HOSPITAL
Real-World Data for Real-World Results
Accessing HospiScope will enable you to…
IDENTIFY OPPORTUNITIES

With 130+ data points per hospital, you can drill down on opportunities that will make your sales team eager to bring in new business! Filter by type of institution, by size of institution, by modality and by geography to get at the detail you need.

GAIN A COMPETITIVE ADVANTAGE

Use HospiScope to compare healthcare infrastructure across markets to size up competitors and benchmark your own efforts more effectively.

MAKE YOUR CRM A DYNAMIC TOOL

Integrate HospiScope's data into your CRM to uncover hidden patterns and develop propensity models that will identify your next big sale.

ACCESS DEPENDABLE DATA

Grow your business with a hospital database that is fact-based—all data points in HospiScope are gathered directly by our team and updated annually.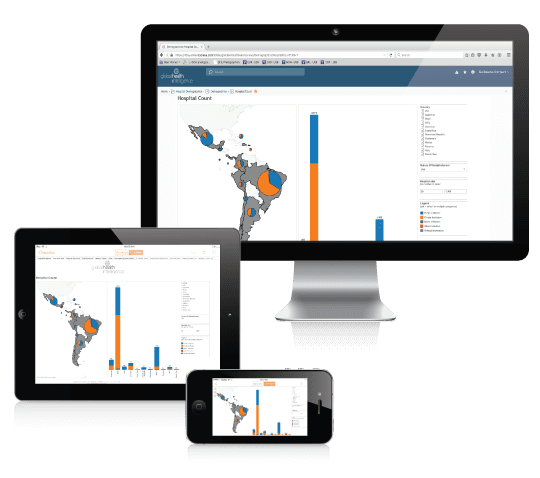 Deep Data in a Few Clicks
The hospital database is set up in a user-friendly platform that enables you to get to the data you need, quickly.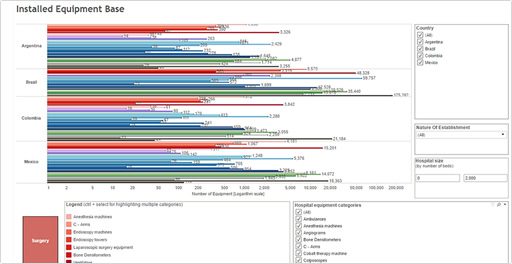 The database is structured to build up from thousands of hospital profiles, each including information such as:
Demographics (Hospital name, Address)
Contact information (Telephone number, Email, Website)
Nature of the establishment (Public / Private / Mixed)
Number of beds (Hospitalization, Intensive care, Surgery, Labor, etc.)
Infrastructure (Operating rooms, Ambulatory rooms, Endoscopy rooms, etc.)
Capital equipment (Anesthesia machines, X-Rays, PETs, PACS, C-arms, Echocardiograms, Endoscopy towers, Hemodyalisis machines, Infusion pumps,MRIs, Radiotherapy equipment, CT scanners, Ultrasound equipment, Ventilators, amongst others)
IT equipment (EMR, Internet, Computers, etc.)
Admissions (Ambulatory vs Hospitalization) and Procedures (General, Cardiovascular, Neurological, OBGYN, etc.)
Medical specialties (Psychiatry, Family, Dental, etc.)
Medical staff (Number of doctors, nurses, radiologists, etc.)
Dashboards for Driving Decisions
Building on the hospital data, we created 10 dashboards that allow you to quickly gather insights for strategic planning, sales forecasting, budgeting and benchmarking. Dashboards can be exported to PDF and Excel.
Hospital count
Hospital infrastructure
Medical offices
Number of beds
Installed equipment base
IT infrastructure
Procedures & Admissions
Filters that Drill Down to the Essence
Using our powerful filtering tools, clients can quickly access specific information of interest.  The preset filters are:
By country
By type of institution (Public / Private / Mixed)
By size of institution (Number of beds)
By level of care
See It in Action
This video explains how our Latin American hospitals database works, gives an overview of some the data it contains and shows how healthcare equipment manufacturers can use to discover new sales opportunities.
Incisive Analysis + Latest Industry Developments
Our GHI Analysis section brings a fresh and focused perspective on LatAm´s dynamic healthcare industry to help you identify opportunities and grow in emerging markets.