The Recent Growth of Robotic Surgery in Latin America
July 2021 may have been one of the most eventful months for robotic surgery in Latin America:
In Chile, the Hospital Clínico de la Red de Salud UC CHRISTUS announced its acquisition of the Medtronic HUGOTM RAS system
In Puerto Rico, the Hospital del Centro Comprensivo de Cáncer de la Universidad de Puerto Rico announced its acquisition of a DaVinci XI system
In Panama, the first gynecological procedures ever performed with a Medtronic HUGOTM RAS (robotic-assisted surgery) system were done at Pacífica Salud Hospital
But July wasn't the only month with developments in LatAm's robotic surgery adoption and deployment:
In February 2021, the Hospital San José in Hermosillo, Mexico announced its acquisition of a Da Vinci robotic system
In June 2021, Clínica Santa María realized the first patient procedure ever conducted with the HUGOTM RAS system, a prostatectomy
In August 2021, the Sanatorio de la Trinidad Palermo announced the acquisition of the ROSA robotic surgery system

In fact, it's hard to keep up with the constant developments, as more and more hospitals announce the purchase of such high-tech and state-of-the-art systems. Global Health Intelligence's research team has tracked more than 30 acquisitions of robotic surgery systems in Latin America during 2020-2021*. "The LatAm med tech market is evolving rapidly," explains Matt Collins, Director of Marketing for Hugo TM in LATAM. "One reason for that change is the fact that purchasing large capital equipment is becoming easier. Take the example of Medtronic's Hugo TM RAS system. Now, for the first time ever, hospitals can work with a single manufacturer to purchase open, lap, and robotic surgical solutions. This kind of choice is powerful, and certainly makes the life of hospital managers easier. I'm just happy to be part of the journey to make these possibilities a reality for hospitals in LATAM," he says.
The Latin American Robotic Surgery Market by the Numbers
Over 50% of the total amount of robotic surgery systems in the Latin American market have been acquired over the past 5 years, and almost 30% of that total was reached over the past year and a half.
According to Global Health Intelligence (GHI) analysis, the most present robotic surgery devices on the market are the DaVinci models, which represent 85% of the Latin American installed base; the DaVinci Si is the best-selling model. In terms of market share in LatAm, the Da Vinci brand is followed by Cyberknife, which accounts for 9% of the installed base, and Rosa, which accounts for 5%.
Medtronic, one of the world's largest medical device and technology firms, recently launched its HUGOTM system, which was conceived to offer institutions a highly intuitive system at a lower total cost of ownership than the current systems in place, along with training system support to help hospitals maximize their ROI.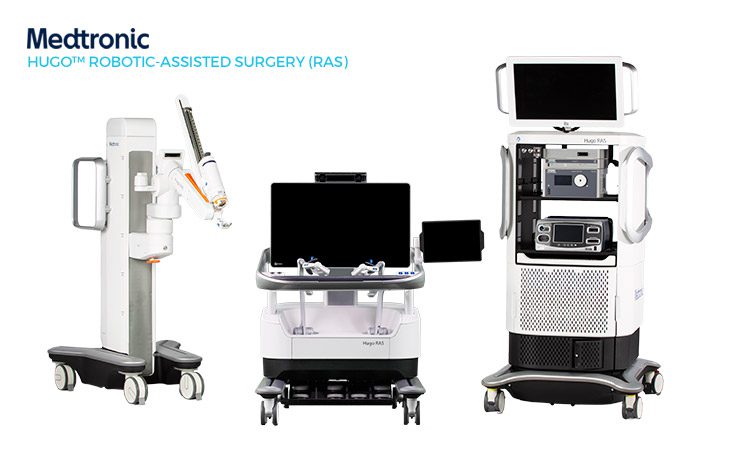 "The real value that large med tech companies bring to the robotic landscape isn't just with the hardware: it's the total solution they can deliver based on their existing footprint and manufacturing capabilities. It's much easier for companies like Medtronic to deliver training, local support, and reliable tech services — not to mention, cost-effective instruments," says Collins.
Further analysis by GHI's research team indicates that more than 80% of the robotic surgery systems in Latin America belong to the private healthcare system, while the rest are in public hospitals. While public institutions have recently ramped up the acquisition of such systems, this is a stark contrast to how care is typically delivered across the region, where nearly two-thirds of the population attends public healthcare institutions.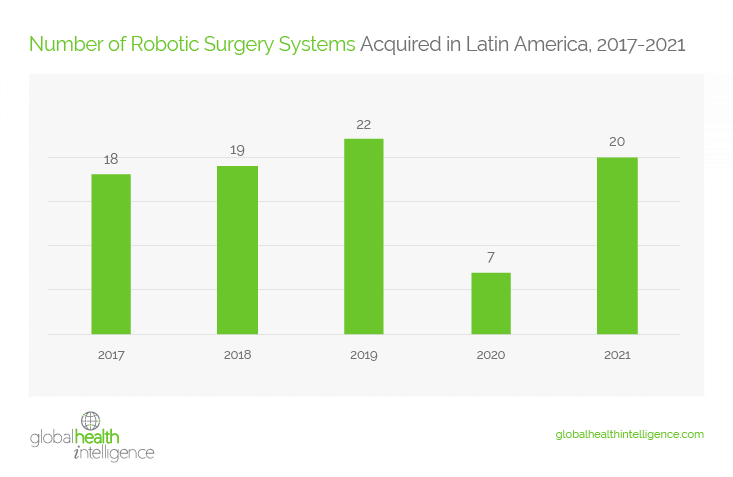 One well-known robotic surgery acquisition was made by Argentina's National Atomic Energy Commission, which is building the first proton therapy center in Latin America. To this end, the Commission has already acquired the CyberKnife linear accelerator for radiosurgery, which is used for both adults and children, thus extending the impact of robotic surgery to pediatric medicine.
New Systems and More Specialties
Da Vinci is one of the most widely used and best-known platforms in the market, and is implemented in various procedures, such as prostate cancer surgery, renal and bladder surgery, in addition to its use in general surgery in cases such as cholecystectomy, colon and rectal cancer, gastroesophageal reflux surgery and gynecological surgery. With the precision with which surgeons can operate using robotic surgery platforms, their use was extended to new specialties, such as breast cancer surgery and coronary bypass surgery, among others. In Mexico, the Ángeles hospital chain has a robotic surgery center and 6 of its hospitals perform a wide variety of procedures.
The incorporation of new robotic platforms for surgery has made it possible to cover more procedures, such as arthroscopy assisted by the Rosa Knee robot, which in addition to providing greater precision and range of motion to professionals, facilitates faster and better patient recovery.
"With the ROSA Robot, we not only have precision in the placement of implants, but it also allows us to ensure that the soft parts and the balance of the ligaments are perfect, which in the long term improves the patient's well-being. Through the Rosa Robot, patients have less residual pain after having a perfect soft-tissue balance, which allows them to return to daily life activities more quickly and in the best conditions," says Dr. Carlos Sandoval, head of the knee team at the MEDS Clinic in Chile, which is one of the countries in the region with the most acquisitions.
New Technology, Greater Advantages
Despite the significant investment required to procure surgical robots, studies suggest that minimally invasive surgery via robotics offers several advantages, including:
Greater visibility and precision, which should result in smaller incisions and smaller scars
Easy access to complex or delicate anatomical areas
Reduced risk of infection
Less bleeding and pain for the patient
Faster recovery and shorter hospital or clinic stay
The Impact of the Pandemic
It's still too early to tell if the budgetary challenges sparked by the pandemic will result in fewer surgical robot systems being acquired by Latin American hospitals in the future. At this point, the market is still seeing the results of acquisition plans made before the pandemic. As 2022 and 2023 progress, we will have a better sense of the rate at which robotic surgery will grow in the region, along with the primary factors that drive acquisitions by hospitals.
As of October 2021, GHI analysis indicates that more than 130 medical institutions in Latin America (both private and public) have robotic surgery systems and that there are more than 150 robotic surgery devices/systems in use throughout the region.
Explore More
Contact us to arrange for a personalized study of robotic surgery in Latin America. Our team can help your company understand not only the current market but also future growth potential and the unique characteristics of hospitals that tend to acquire robotic surgery systems to help you define your sales targets with greater precision.
You may also find our other resources helpful as well, ranging from our LatAm Hospital Monitoring Service and HospiScope database to our SurgiScope database and ShareScope service, among others.
* This does not mean these systems were purchased in 2021 or 2020. GHI data tracks when hospitals announce a purchase, divulge an acquisition to our research team or announce the use of such equipment for the first time. Hospitals typically plan the acquisition of high-tech equipment (such as robotic surgery systems) over several years. Therefore, it is likely that the plans to purchase this equipment were developed several years prior and only in 2020-2021 did these come to fruition.