LATIN AMERICA HOSPITAL MONITORING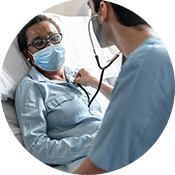 Even with COVID-19 vaccines becoming available, hospitals face tremendous challenges in Latin America, such as:
New patients being admitted, especially as COVID cases keep evolving
Surgical procedures being rescheduled or abandoned
Equipment/devices and technology needs constantly shifting as hospitals deal with the ongoing crisis
To help healthcare companies keep up, we have developed a new monitoring service for Latin American hospitals.
Contact GHI to subscribe to this monitoring service, and our team will develop customized reports that track the evolution of hospital KPIs, focused on your area of interest.
We contact hospitals in all major Latin American markets on a regular basis in order to obtain indicators critical to your business success.
We upload this data to our interactive reporting platform so you and your teams can be "in the know" on the latest trends and developments.
Every month, you are able to see:
Hospital admissions
Procedure volume
Tracking of specific surgical procedures performed
Evolution of surgeries over time
Admissions by department within the hospital
How specific hospitals are adapting to the ongoing COVID crisis

Why Subscribe
This real-time monitoring of the state of hospitals will let you:
Understand the current, direct needs of hospitals in your market—right now and from month to month
Gauge market demand for equipment, devices or drugs
React quickly to market fluctuations
Anticipate the recovery
Monitor the situation in multiple hospital markets so your teams in different countries can stay current

Markets Covered
We can provide monthly monitoring for hospitals in:
Argentina
Bolivia
Brazil
Central America
Chile
Colombia
Dominican Republic
Mexico
Paraguay
Peru
Puerto Rico
Uruguay
Contact us to tell us what kind of hospital data you need us to monitor. This will allow us to customize your plan and give you a quote.
Once you subscribe, we'll create your account so you can start to receive monthly alerts when your latest report is ready.
You can then log in and quickly access the data you need to make crucial business decisions based on the latest shifts.
Incisive Analysis + Latest Industry Developments
Our GHI Analysis section brings a fresh and focused perspective on LatAm´s dynamic healthcare industry to help you identify opportunities and grow in emerging markets.