Understand the market landscape in order to gauge the opportunity, evaluate risk and reap rewards.
ShareScope is a powerful and unique solution

developed by Global Health Intelligence (GHI) experts

that will enable you to:
Identify the market size
Understand your market share — and that of your competitors
Track market share over time
Applying more than 20 years of market intelligence experience and acumen, GHI developed ShareScope to assess real-world market size and market share in Latin America for products such as capital equipment, medical devices, consumables, disposables and pharmaceuticals.
ShareScope relies on a proprietary methodology developed by GHI and refined over the past 10 years.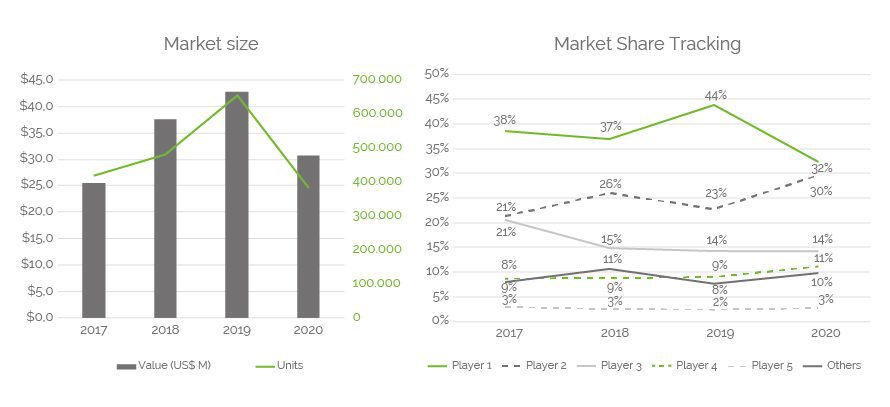 How We Do It
ShareScope is driven by a four-step stage gate methodology, all based on hard data that is irrefutable. By working closely with our clients, we're able to focus research parameters to individual needs so that each ShareScope research outcome is tailored to each client's needs and products. We analyze and present the data visually, on a quarterly or annual basis, using tools such as PowerBI and Tableau.
Research validations indicate a level of accuracy of 90%.
The critical aspects of ShareScope include:
We obtain irrefutable underlying data from official sources
We base ShareScope analysis on hard data, not extrapolation, assumptions or speculation
We access information on product codes and descriptions
We ensure regular data flow for consistent updates
We can replicate our ShareScope methodology to any kind of medical device, equipment, technology, pharmaceutical
We track data over time
We cover all major markets in Latin America

Product Types
ShareScope's market size and share analysis can be applied to the following types of healthcare products:
Capital equipment: X-ray machines, ultrasound equipment, anesthesia machines, cribs, densitometers, echocardiograms, endoscopy machines, hemodialysis machines, incubators, Infusion pumps, MRI, patient monitoring, PETs, tomography (CT) scanners, and more
Medical devices: Pacemakers, prosthesis, stents, surgical equipment, ventilators and more
Medical technologies: PACS, RIS and more
Consumables: Adhesives, disposable clothing, fluids, gases, surgical kits and more
Pharmaceuticals: Generics and patented drugs