Growth Markets for CT Scanners in Latin America
Given the coronavirus crisis, ventilators are going to be far more popular than any other medical equipment—at least for the foreseeable future.
However, as the world begins to emerge from the crisis, it's important to be able to identify other needs that Latin American hospitals may have.
One key growth area is clearly CT scanners. In tracking our results in HospiScope through the end of 2019 and into 2020, we were able to observe significant growth in Latin America for CT scanners in different markets. Below we offer a breakdown: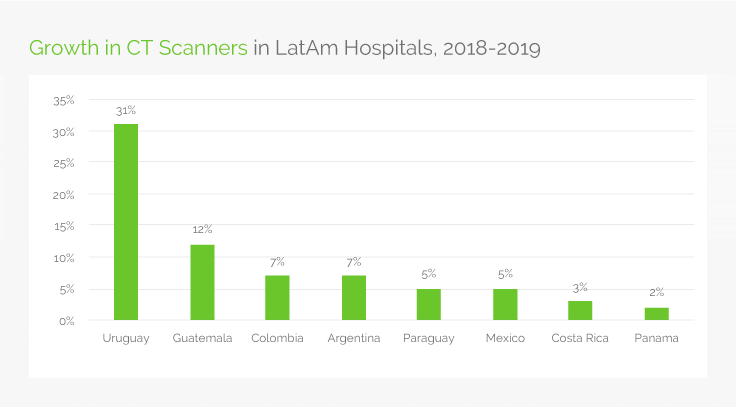 As shown in the char above, Uruguay had the largest increase in the amount of CT scanners in its hospitals during 2019. However, this growth was no restricted to smaller hospital markets. Mexico has more than 3,300 hospitals and in 2019 the amount of CT scanners in those hospitals went up by 5%. In 2019, Colombia—which has more than 2,700 hospitals—had an increase of 7% in the amount of CT scanners in its hospitals. 
While this gives a broad picture, to identify sales opportunities, you may want to inquire about HospiScope. A subscription would allow you to identify specific hospitals that acquired CT scanners not only in 2019 but also recently.
As a complement, using our InstaScope Service, you can find out market share for CT scanners in 13 different countries in Latin America. Not only will you see the manufacturers who lead in market share in the country (or countries) of your choice, your report will also tell you the hospitals with the most CT scanners in each market—and how many each one has.