Latin America's Newest Hospitals
The construction of new hospitals in several Latin American countries has resumed after the coronavirus crisis. Two cancer centers stand out among them: one in Colombia, and Bolivia's first nuclear medicine center. The public sector is where most investment in health-service infrastructure has come from. Brazil aside, the country with the highest number of openings was Chile, which, through the government's National Investment Plan between 2018 and 2022, has 17 completed hospitals to date, 34 under construction, 12 in the tendering process, and 41 in the design or study phase throughout the country.
The most notable ones are mentioned below:
Colombia: Luis Carlos Sarmiento Angulo Cancer Treatment and Research Center
In July 2022, a modern center for comprehensive cancer treatment in Latin America was opened with a capacity to treat more than 7,000 patients. The facility, located in the north of Bogotá, is the initiative of banking and construction entrepreneur Luis Carlos Sarmiento Angulo, who invested 320 million dollars in its construction.
The Centro de Tratamiento e Investigación sobre Cáncer (CTIC) has 176 beds, 30 of which are intensive care unit (ICU) rooms. In terms of technology, it has four radiotherapy bunkers, nine state-of-the-art operating rooms, 56 chemotherapy infusion chairs, as well as high-tech laboratories and advanced equipment for genomics, proteomics and immunogenics, used for research into the country's leading cancer pathologies.
Research is a fundamental component of CTIC, which will address patient care holistically. That means providing all the services, examinations, and treatments in the same complex; a multidisciplinary approach organized in twelve cancer clinics specializing in areas such as leukemia and lymphoma, soft tissues, skin, chest, head and neck, breast or endocrine tumors, and scientific research.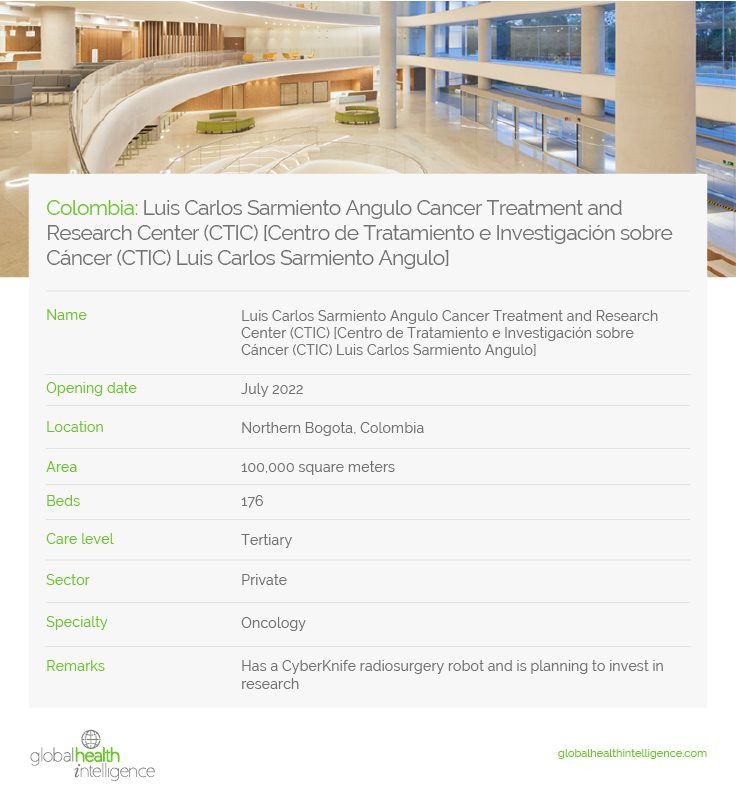 Argentina: "Dr. Ramón Carrillo" Central Hospital in San Luis
In April 2021, a new public hospital was opened in the San Luis Province. It includes the construction of a 50,000 square meter covered area, the acquisition state-of-the-art equipment, and special facilities.
Investment in the Hospital Central Dr. Ramón Carrillo was 58 million dollars—the highest in the province—and includes the construction of road works, infrastructure, and general fixtures and fittings.
The care center has the latest technology and aims to provide access to health care for the population. The new hospital provides tertiary care, with level-eight complexity. It has university teaching—with telemedicine to train professionals—and is ranked by the Argentine Health Ministry as a type III-2 establishment.
It has 400 beds for undifferentiated common inpatient care, critical inpatient care, a crash room and on-call observation, 15 operating rooms—9 general and 6 specialty, including a hybrid operating room—and the necessary facilities for diagnostic and treatment activities for more than 50 services.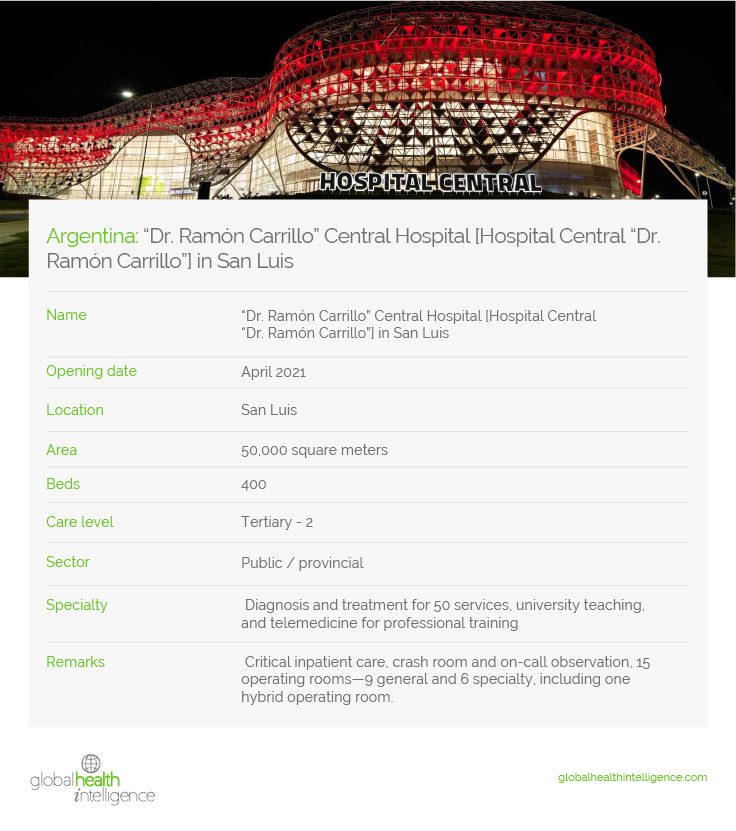 Mexico: Regional General Hospital No. 252 in Atlacomulco, Mexico State
On October 21, 2022, authorities of the Mexican Social Security Institute (IMSS) of the government of Mexico State, and of the National Union of Social Security Workers (SNTSS), opened Regional General Hospital General (HGZ) No. 252 in Atlacomulco, Mexico State, which will serve more than 215,000 beneficiaries from this Mexico State and Michoacán with primary, secondary, and tertiary care levels.
It has 90 beds, 28 specialist doctors' offices, four operating rooms, six chemotherapy chairs, a 64-slice CT scanner, and a mammography unit. It had an investment of 257 million Mexican pesos (around 64 million US dollars).
The hospital will provide services to patients in 10 municipalities of Mexico State and Michoacán, and to that end, it has state-of-the-art, sustainable and eco-friendly equipment, according to the head of the Mexico State East Decentralized Administrative Operational Body, Dr. Miralda Aguilar Patraca.
It has the capacity to treat 209,000 patients in 36 specialties, including cardiology, pediatrics, endocrinology, gynecology, neurology, and traumatology.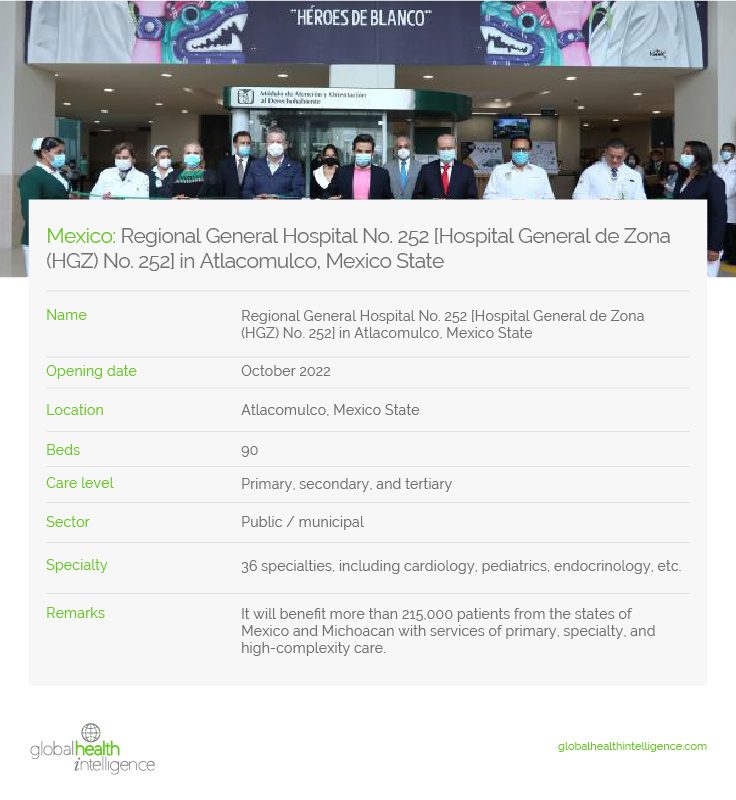 Chile: Cochrane Hospital in the Aysén Region
Opened at the end of January 2022 by former Chilean president Sebastián Piñera, before his successor, Gabriel Boric, took over, this modern establishment has a gross floor area of 5,020 square meters, for a beneficiary population of 5,000 inhabitants.
Hospital de Cochrane or Cochrane Hospital, in the Aysén Region, will have seven clinical beds and two pediatric inpatient units, an emergency operating room and a surgical/delivery operating room, 10 regular treatment rooms, and two emergency treatment rooms, three procedure rooms, two dental treatment rooms, and two radiology rooms (osteo pulmonary and dental).
The modern hospital facility forms part of the Special Development Plan for Extreme Regions (PEDZE) and the Aysén Region Health Infrastructure Improvement Scheduling Agreement, whose overall investment is around $19 billion Chilean pesos (22 million US dollars).
Special work on energy efficiency was carried out, considering the low solar radiation levels and long winters. For this reason, in addition to having a conventional heating system, the building is north facing, with Trombe walls, the first system of this kind in the Aysén region, which allows for passive solar collection to convert it into a simple heating system by circulating the accumulated hot air and moving it into the building.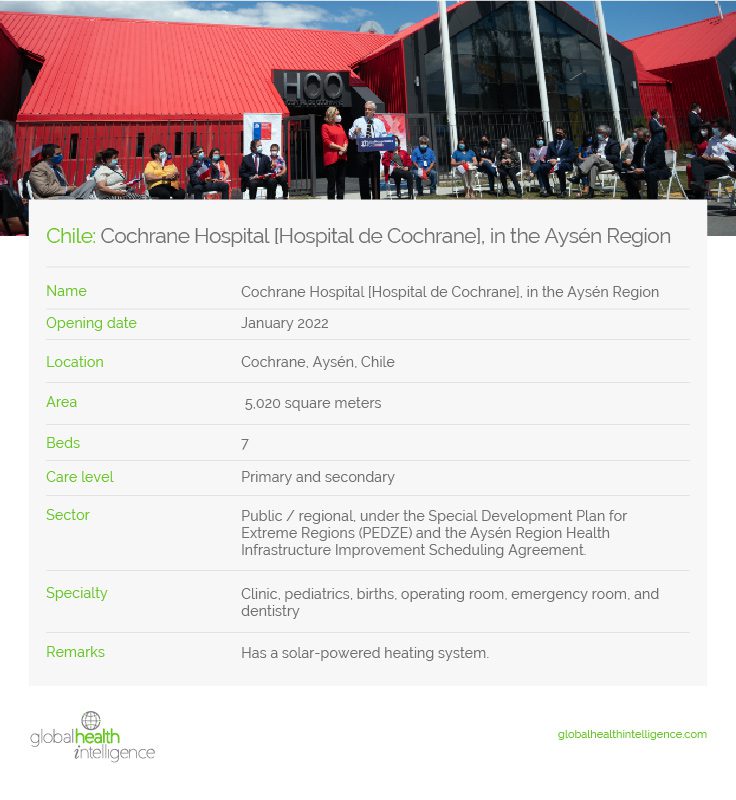 Under construction in Chile: Provincial Curicó Hospital
The new Curicó Hospital is expected to be up and running in six months, benefiting close to 300,000 people.
The new care facility is 109,152 square meters—five times the size of the current hospital—and will directly benefit the inhabitants of the eight communes in the Curicó Province.
This tertiary referral hospital will be equipped with: 400 beds—346 basic and 54 critical; 12 wards; five comprehensive delivery rooms; 79 spaces for outpatient visits and procedures; emergency services for tertiary-service patient care; and clinical, logistical, and administrative support services to operate the establishment.
The new Curicó Hospital has seven floors and two underground levels, allowing for infrastructure expandability. It will have 400 hospital beds, increasing the capacity of the old facility by more than 120.
The establishment will have an MRI scanner to prevent people from having to travel to the regional capital of Maule or from having to resort to private providers to obtain imaging tests.
It also has a dialysis service, which the current Curicó Hospital does not have. In addition, it has an emergency room, five comprehensive delivery rooms (the first in the province), 800 parking spaces, and a heliport for aeromedical transfers.
The construction is 99.5% complete, and contemplates the opening of the day hospital and relevant accessibility for health personnel and users to this facility.
Significant among the completed specialties include seismic isolators, which guarantee minimum oscillation and risk of damage in the event of an earthquake. Five generator sets have also been installed now, to provide the hospital with electrical backup during power outages.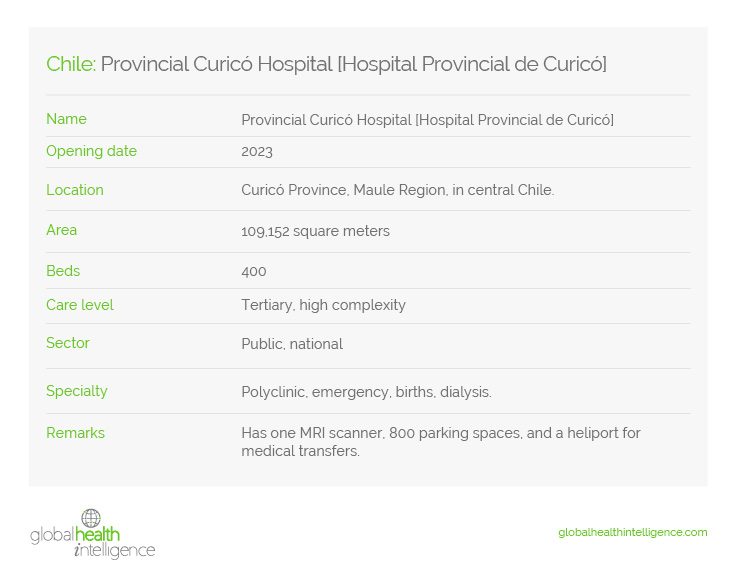 Bolivia:  Nuclear Medicine and Radiotherapy Center
On March 6, 2022, Bolivian president Luis Arce opened the country's first nuclear medicine and radiotherapy center, to treat diseases such as cancer. The acquisition means Bolivians will be able to receive treatment for this illness from within the country, instead of traveling to neighboring countries to receive cancer care, as is the case at present.
"With this center, we will no longer have to go to Brazil, Argentina, Chile, or other countries for treatment," said Arce in his opening ceremony speech.
The Centro de Medicina Nuclear y Radioterapia will be run by highly qualified Bolivian personnel, including thirty agents who have been trained in Argentina.
The center was built and equipped by the Argentine company INVAP, which has been developing technological systems in the nuclear, space, environmental, and medical fields for more than four decades.
The new 2,200 square-meter center, located in the Parcopata neighborhood of El Alto, will have the capacity to treat 120 cancer patients per day, and it is estimated that it will attend to around 36,000 visits per year. It had an investment of 49.1 million dollars.
In terms of equipment, the new center has two multi-modality linear accelerators, a high-dose-rate brachytherapy unit, and a CT simulator; while the Clinical Oncology and Ambulatory Chemotherapy area has eight doctors' offices for attending to cancer patients, and seven chairs and three gurneys fitted with infusion pumps and clinical monitoring for the application of chemotherapy. The center also has a positron emission tomography/computed tomography (PET/CT) scanner and a single-photon emission computed tomography (SPECT/CT) scanner.
The El Alto Institute of Nuclear Medicine and Cancer Treatment is part of the Nuclear Medicine and Radiotherapy Centers Network of the Plurinational State of Bolivia, along with two others whose construction is also provided for in the agreement that the Bolivian Nuclear Energy Agency (ABEN) signed with INVAP in the cities of La Paz and Santa Cruz de la Sierra.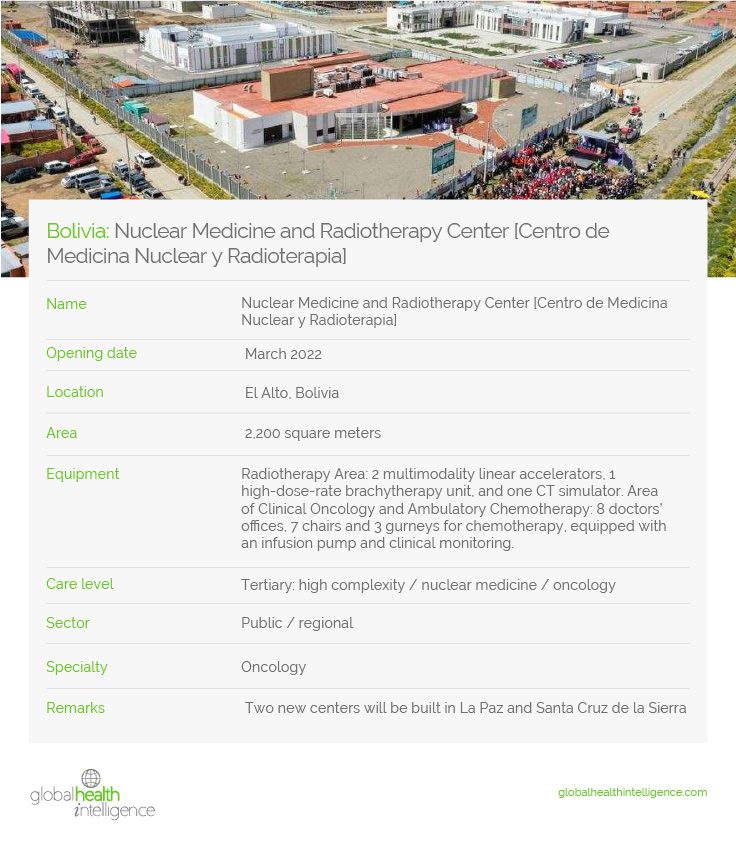 Next steps
Contact us for learn more about the leading hospitals in Latin America.  Our annual HospiRank ranking provides detailed information on the best equipped hospitals in the region. In addition, our HospiScope and ShareScope databases provide information about medical equipment and company market share for medical equipment types in various Latin American countries.