A Data Portrait of Latin America's Hospitals
While granular detail about hospitals in Latin America can yield the insights for the medical equipment/devices industry, the LatAm pharmaceuticals industry and the medical consumables industry, market research can also yield very helpful baseline data. Our work in providing market intelligence for the Latin American healthcare sector has delivered both baseline data and much deeper, intricate dives to help companies make successful business decisions when operating in the region.
However, to provide a quick reference resource for our readers, we created this infographic, which covers a variety of important areas in larger (Brazil, Mexico, Colombia, Argentina) and smaller LatAm hospital markets (Chile, Peru, Dominican Republic, Puerto Rico, Uruguay):
Number of hospitals
Procedure volume
Capital equipment counts, including:

Amount of anesthesia machines
Amount of X-ray machines
Amount of MRI machines
Amount of ultrasound machines
Amount of laparoscopic equipment
Amount of Gamma cameras
Amount of C-arms
Amount of CT scanners
Amount of PET systems
The infographic covers the following markets:
Bolivia
Brazil
Chile
Costa Rica, Guatemala, Panama
Dominican Republic, Puerto Rico
Paraguay
Peru
Uruguay
Click here to download the infographic, or you can click on the image below.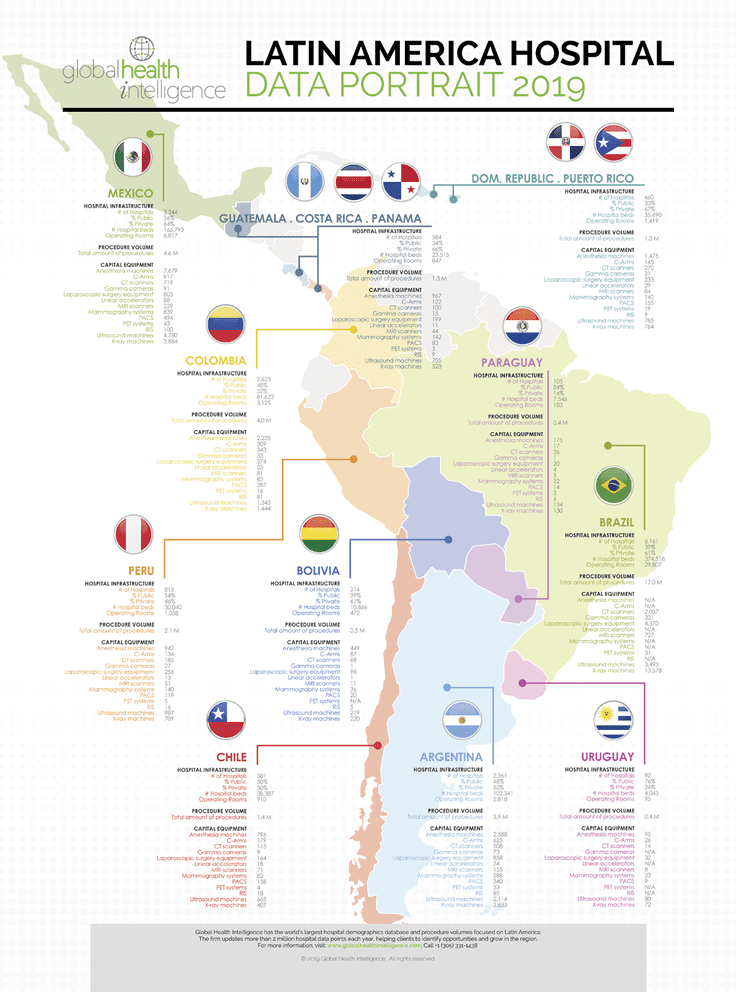 For even more information on LatAm hospitals, explore our 2019 Latin American Hospitals Fact Sheets.
Explore More

Of course, these free resources are only a very small part of the LatAm healthcare data analytics that Global Health Intelligence provides. For a deeper dive into data for the region's hospitals, including surgical procedures, market size/share, market leaders in 40+ medical equipment categories or ad hoc research, please contact us.