Weak COVID-19 Testing Could Worsen the Pandemic in Latam
Since February 2020, Global Health Intelligence (GHI) has been monitoring the evolution of the novel coronavirus across the world and the impact it has on healthcare systems.
As the virus continues to spread across Latin America, the impacts of the ravages are being felt across healthcare systems. Yet some countries are faring better than others.
Armed with data from the World Health Organization, GHI shares key indicators on the pandemic's spread across the region and how countries are reacting.
Note: This data is comparable only by assuming that countries use the same reporting standards and metrics.
Tests per 10,000 people
A major shortfall is the lack of testing being conducted across the region.  Aside from Chile —which is currently conducting over 180 tests per 10,000 people — all of the other major economies (including Brazil, Mexico, Colombia and Argentina) are conducting less than 40 tests per 10,000 people.  Without proper testing, it will become impossible to implement policies that will limit the spread of the virus, much less contain it.
Barring the exception of Chile, the rest of the region's major economies have much catching up to do when it comes to population testing.  Yet it appears that a majority of Latin American governments are not taking the necessary measures to make this happen as the expansion of testing unfolds at a decreasing pace.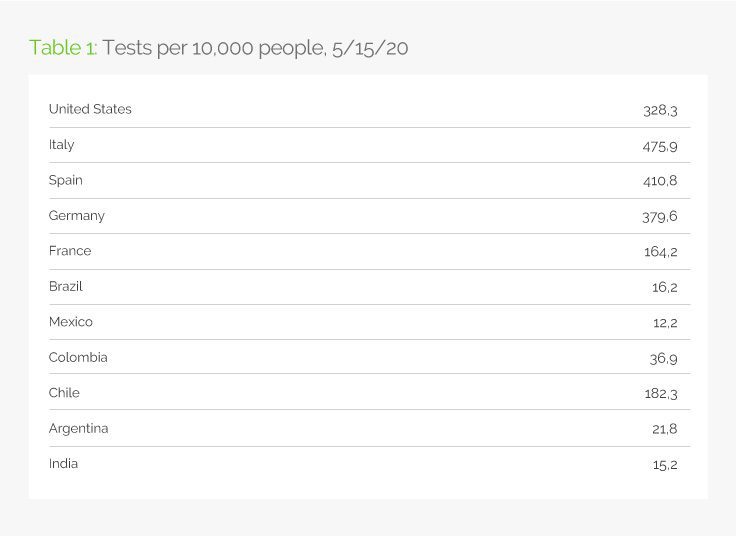 The differences are more dramatic when we plot them on a graph: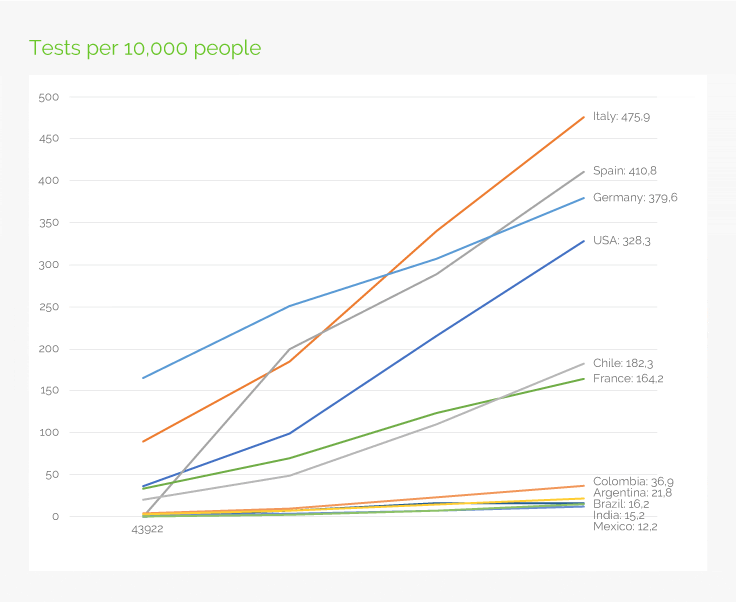 Cases per 1,000 tests
Meanwhile, not only is the number of net cases increasing at an alarming rate, but the proportion of cases per 1,000 tests is also increasing.
This is particularly true in Brazil – the region's largest market by population and GDP – where the number of cases per 1,000 tests grew by over 140% from May 1, 2020 to May 15, 2020.  In comparison, other large economies such as Chile, Colombia and Mexico saw the number of cases per 1,000 tests grow 40%, 30% and 28% respectively. 
In contrast, countries in Europe and North America, which were hit earlier with the pandemic, saw a decreasing trend over the same period.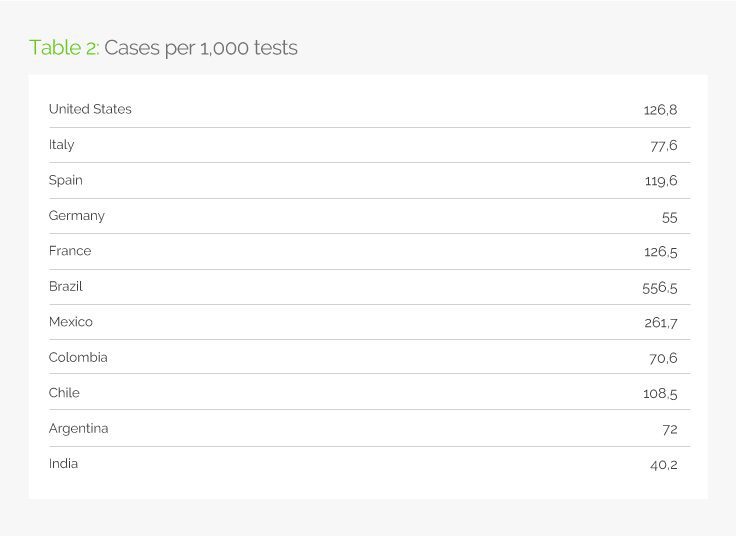 Observe the growth when plotted for the period between April 1 and May 1, 2020: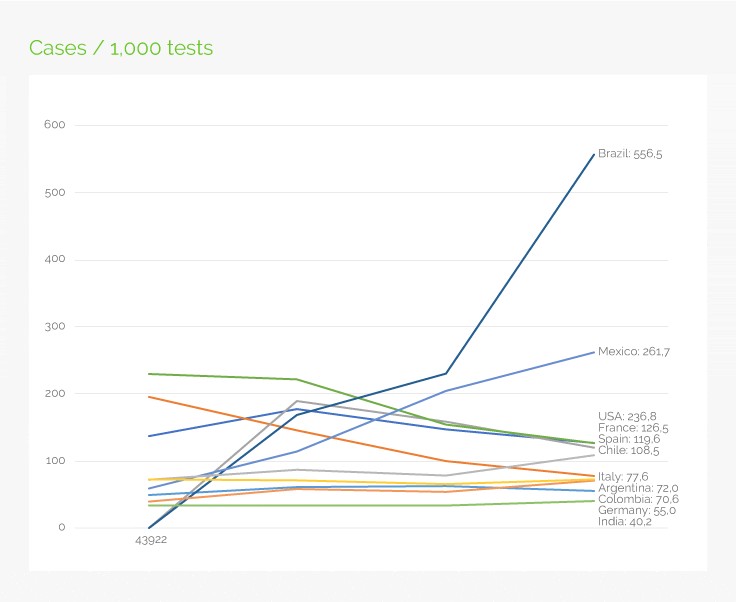 Deaths per 1,000 cases
The indicator of deaths per 1,000 cases measures a country's ability to face, respond and deal with a deadly pandemic such as COVID-19. If tests are conducted to a vast proportion of the population and cases reported correctly, this indicator enables us to compare the effectiveness of healthcare systems amongst countries.
In this regard, Mexico is facing an alarming situation with over 100 deaths per 1,000 cases – by far the highest in the region. In contrast, Brazil is registering 70 deaths per 1,000 cases, Argentina 50, Colombia 39, and Chile 10.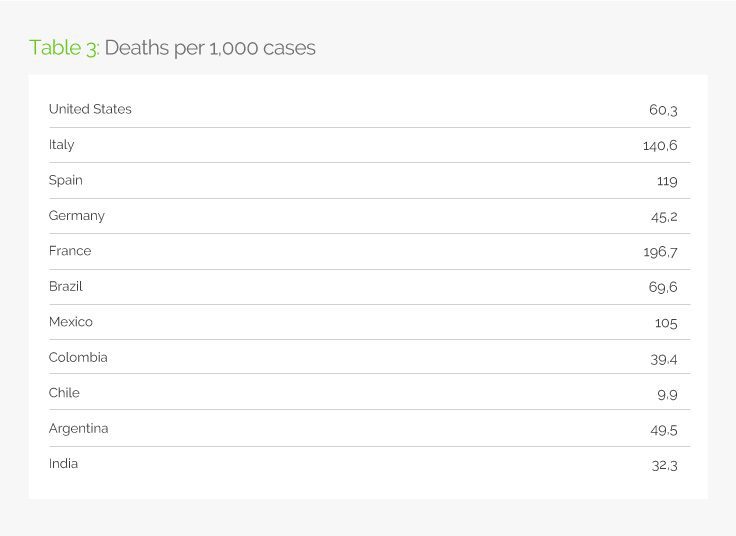 Here is a look at deaths per 1,000 cases between April 1 and May 1, 2020:
Resources for Handling the Challenges of COVID-19
Latin American countries are facing daunting public health challenges that have been accentuated by low testing. Further exacerbating the problem, many countries reduced their amounts of ventilators over the years prior to the crisis.
Beyond taxing hospital systems severely, COVID-19 produced challenging conditions for the medical equipment manufacturers who service the region. To help these companies, GHI has developed a variety of services:
Please contact us to find out more about how we can help your company navigate these challenging times.