The Most Popular Surgical Procedures in Mexico
Like other countries, Mexico has various public health programs designed to meet its population's health care needs. Public health in Mexico, aimed at the most vulnerable sectors, focuses mainly on the development of health care policies for prevention, access, and early detection, and on the treatment of infectious or chronic degenerative diseases. However, as is often the case in other countries also, surgery as a life-saving medical benefit is not a priority in public policies, and suffered the effects of the measures taken in 2020 to control COVID-19 infections at the beginning of the pandemic.
Mexico's current situation in the hospital sector
Mexico's hospital sector is highlighted in HospiRank 2022, a ranking of the best equipped hospitals in Latin America, compiled annually by Global Health Intelligence (GHI). Hospital General de México is regarded as the best equipped hospital, with 1,110 beds and 50 operating rooms. "What is interesting to the private sector is that there are some [hospitals] such as Médica Sur, ABC, Ángeles, and Muguerza, that are very well equipped, specialized, and also offer fast treatment, which is one of the biggest problems in the public sector, where there is a lot of demand but long waiting times," explains Mariana Romero, Director of Intelligence Services at GHI.
The same survey shows that Mexico has one of the highest operating-rooms-to-hospital ratios in Latin America. With an average of 2.2 operating rooms per hospital, it comes second behind Brazil (4.4), beating Colombia (1.2), Argentina (1.3), Central America (1.4), Chile (1.4), Peru (1,4), and the rest of Latin America (1.4).
Of the hospitals specializing in surgical procedures, Hospital Juárez de México, established 175 years ago, is considered the birthplace of Mexican surgery, and is one of the best equipped in the country. It is emblematic in the surgical sector as it has been a leader in certain treatment innovations," says Dr. Gustavo Esteban Lugo Zamudio, CEO of Hospital Juárez de México, whom we interviewed for HospiRank. The hospital treats 54 specialties in the three levels of care and is constantly renewing its equipment to keep it up-to-date. "We are going to reinforce what we need here for tertiary care. We have resumed kidney and corneal transplants, and are exploring the possibility of performing liver transplants in 2023, so we are looking at the equipment we need to achieve that objective, as well as bone marrow transplants," says the CEO regarding its purchasing plans.
The institution also develops surgical technology: "There are other relevant programs. Right now, few institutions offer a prosthetics program, especially for losses of lower limb segments. We are currently at the first stage, where we managed to reach an agreement with Mexican developers of this kind of technology. The agreement stipulates that the technology will be developed at Hospital Juárez de México so that the hospital will be the owner of the patent, to reduce the costs," he told us.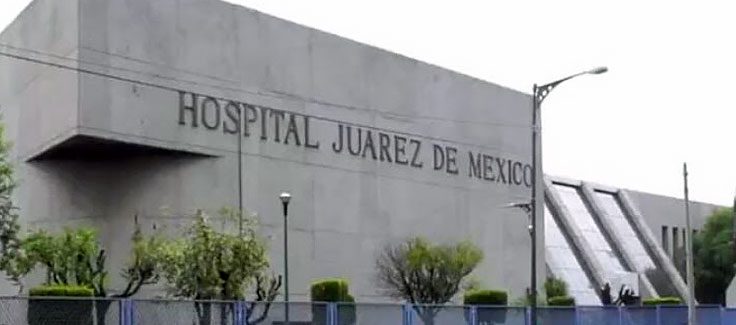 Mexico is also among the countries that stand out for their hospital care infrastructure. It has more than 1.2 million hospital beds (1,224,837) and nearly 60,000 operating rooms, including those that were added after the survey was carried out (which counted 58,699 operating rooms). It also has 14,714 delivery rooms, and a still low ratio of 2 doctors per 1,000 inhabitants.
The Mexican health system
Mexico is the region's second largest country after Brazil, with more than 3,000 hospitals. The Mexican health system is unique in the region, with a private system operated in parallel with a public system composed of more than 10 independent and isolated structures.
As GHI's CEO, Guillaume Corpart, says, understanding the Mexican health system is a challenge because of the lack of communication among its units. "The private system has no obligation to report its procedures, or to use a consistent coding scheme, so it is a black hole that leaves a lot of questions unanswered," Corpart says. The absence of standardization for clinical information is also a barrier. "The public system operates with independent structures that function without anything linking them to each other.  In addition, even though they are required to monitor the number of procedures performed, they do not use standardized codes, and in many cases they also fail to use the proper code. Some organizations use the international classification ICD-9, some use ICD-10, while others use their own or internal codes. This makes data management very complex. And also, because of this, the decision-making for initiatives such as increasing access to health becomes almost impossible, as it is very difficult to get a full picture of the system and the procedures performed," says Copart.
Moreover, the system is evolving. Mexico's present government is carrying out an ambitious policy to transform the health system, setting its sights on emulating the type of coverage system Denmark has for its population. While its political opponents view this plan as far from viable, the fact is that it has already implemented a series of changes aimed at providing the country's health care institutions with more and better supplies, which means investment by the state administration in equipment, doctors' offices, technology, and professional training.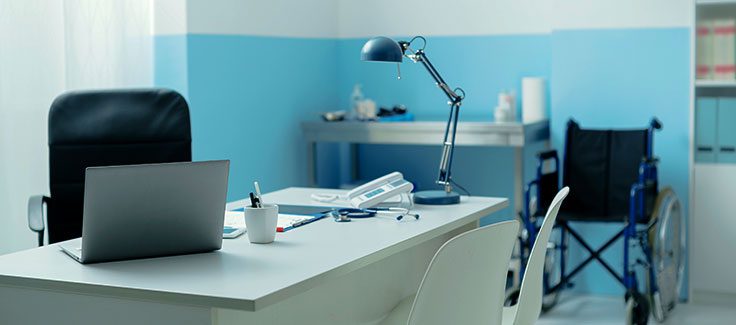 On December 22 last, Mexico's president, Andrés Manuel López Obrador, announced that Mexico will have one of the best health systems in the world in 2023. "To do this, the government is working on fixing its health centers, medical units, and hospitals, and making sure there are enough doctors," he announced in a press conference held in Quintana Roo.
The health secretary, Jorge Alcocer Varela, said the new health system promoted by the government is seeking to provide universal, free coverage and access, even in the most remote parts of the country. "A health system focusing on humanist values and the inalienable principle of social justice," he added. He also outlined the plan to transform the Mexican health system. He stressed that the fundamental objective of its transformation is to make Article 4 of the Constitution a reality, which means providing health care access to the nearly 70 million Mexicans who are currently without social security.
As the survey by GHI's SurgiScope shows, in 2019, 2020, and 2021, there does not seem to have been complete coverage for the wide range of illnesses that are currently treatable with surgery. Most surgical practices were performed in the field of women's health: obstetric procedures rank in first place, operations on female genital organs rank second, and operations on the digestive system rank third.
According to SurgiScope, the surgical procedures most often performed (sorted by field, without mentioning each specific procedure type) are:
Obstetric procedures
Operations on female genital organs
Operations on the digestive system
Operations on the musculoskeletal system
Operations on the integumentary system
Operations on the eye
Operations on male genital organs
Operations on the urinary system
Operations on the nervous system
Operations on the cardiovascular system
Operations on the nose, mouth, and pharynx
Operations on the respiratory system
Operations on the endocrine system
Operations on the blood and lymphatic system
Procedures and interventions not classified elsewhere
Operations on the ear
Miscellaneous diagnostic and therapeutic procedures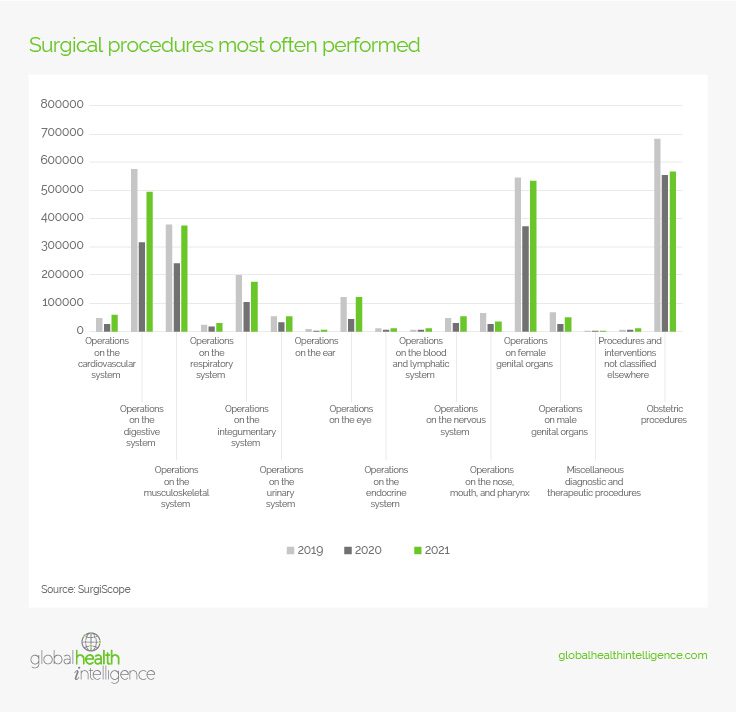 As a preliminary conclusion, Guillaume Corpart points out what an analysis of SurgiScope's data tells us. "Most procedures are centered on women's health, leaving aside other, more complex procedures. In Mexico, we can see that procedures are focused mainly on treating relatively basic cases, a reflection of the health system and the way it operates," he says, adding, "There is an opportunity for growth in level of care and procedures by providing the population with medical education and access to health.
We can say that, looking forward, there is much to be done in Mexico in terms of surgery, surgical procedures, and providing these services to the country's population. This makes surgery an opportunity sector for health providers. Surgical procedures broken down by practice can be looked up in the SurgiScope database, which shows the number of these performed in 2019, 2020, and 2021.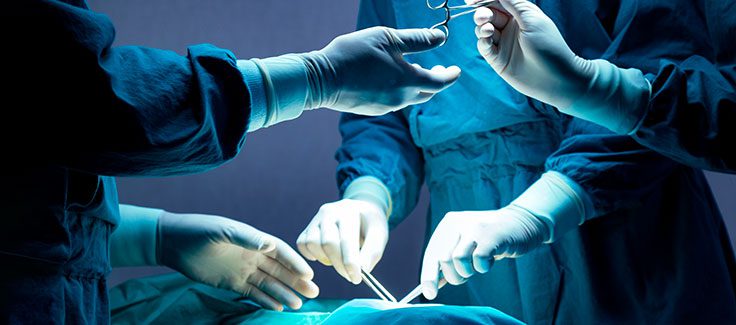 What the data tell us
Although Mexico's public health system does not have a robust health information system with which to measure the state of surgical care, the surveys carried out by SurgiScope provide excellent quantitative information for detecting market niches that could benefit from the health products and services that the Mexican surgical sector needs to develop and grow over the coming years.
Other important inputs for understanding the situation of surgery in Mexico are the indicators proposed by The Lancet Commission on Global Surgery.[1]
In the case of Mexico, these indicators show that the ratio of practicing surgical specialists is 40.2 per 100,000 inhabitants, double the target suggested by this commission and just above the average for high-income countries. This means that Mexico has enough surgeons, who are potentially eager to receive training in the latest technologies and devices that exist in order to significantly improve patient care and thus fulfill their goal: saving lives.
More facts about surgery in Mexico 
Rise of cosmetic surgery
Mexico is a regional leader in the field of cosmetic surgery, and is even regarded as a "medical tourist destination." According to the president of the Association of Professionals with a Master's Degree in Cosmetic Surgery of Mexico, Mauricio Casillas, the country ranks fifth in terms of highest demand for cosmetic surgery worldwide. In Mexico, demand is at a rate of 923,000 plastic surgery procedures per year, representing an average of more than 2,500 operations of this kind a day.
In an interview with the EFE news agency, Mauricio Casillas forecasted that within the next five or six years the market for cosmetic surgery will have grown by a factor of 10. The top three cosmetic surgery procedures performed in the country are: rhinoplasty, breast augmentation, and liposuction.
The ratio of cosmetic surgery among women and men in the Mexican population is 60/40. This means that for every 10 cosmetic surgery procedures performed in Mexico, four are on men. Why has the surgery market grown? For two key reasons: the low cost compared to the epicenters of this specialty (United States and Europe), and the quality of the services provided at Mexican clinics.
Equipment
In health care systems, physical and material resources are necessary components for proper hospital care of the patients requesting the services.
In 2021, a figure of 1,007 clinical analysis laboratories was reported in private health care establishments, distributed among general and specialty hospitals.
Current data from HospiRank 2022 show that Mexico has 3,655 hospitals, 154,045 hospital beds, and 6,819 operating rooms.
Of the hospitals analyzed in HospiRank, 63% are private and 37% are public. Those in the public sector have approximately 95 beds per hospital, while private hospitals have 16 beds per unit.
Areas of highest growth in surgical procedures
The areas where Mexico has experienced more growth in recent years are:
Basic surgery: High- and low-temperature sterilization machines; operating tables.
Advanced surgery: Catheterization laboratories, endoscopy towers; laparoscopic surgical equipment.
Patient care: Patient-monitoring systems.
Diagnostics: Echocardiogram machines.
Advanced diagnostic imaging: Fluoroscopy systems.
Next steps
Contact us to learn more about GHI's SurgiScope and HospiRank solutions. Both are resources for medical-equipment manufacturers, enabling them to see which hospitals in Latin America have specific types of equipment and in what quantities, as well as reference points for hospital administrators.
[1] Global Surgery 2030: evidence and solutions for achieving health, welfare, and economic development, 2015, https://www.thelancet.com/journals/lancet/article/PIIS0140-6736(15)60160-X/fulltext