Overview of the Sector and Launches of Medical Equipment for Cancer in Latin America
The medical equipment industry comprises the manufacture of products linked to medical treatments and hospital care, excluding pharmaceuticals and laboratory products. It covers orthopedic items, implantable devices, artificial-respiration devices, diagnostic equipment (CT scanners, MRI machines, etc.), electronic medical equipment, diagnostic imaging, disposable components, and surgical instruments more broadly.
The countries with the leading industrialized economies are also leaders in the production of medical equipment. Ten countries account for nearly 80% of global sales revenues: the United States, Germany, the Netherlands, China, Belgium, Ireland, Switzerland, Mexico, France, and Japan. Mexico is the only Latin American country in the group.
In addition, medical equipment companies in the most industrialized countries are recording increased investments in research and development. Investment by US companies was US$14.531 billion in 2018, representing more than 10% of their sales. In Japan and Germany, investment in research and development in the sector was in excess of US$1 billion (approximately 8% of sales).
Around 30 multinational companies account for nearly 70% of global medical equipment sales. Many of these companies import low-technological intensity goods from emerging economies and engage in competing with high-tech goods.
In Latin America there are some market niches that come from segmentation itself, and the need for low-scale production of certain products that offer various possibilities for self-supply (such as import substitution), and even exportation. According to the WHO, the term medical device refers to any instrument, apparatus, implement, machine, appliance, implant, reagent for in vitro use, software, material, or other similar or related article.
For that reason, the field of medical devices and equipment is broad enough for many SMEs and local companies to develop in the medical-equipment manufacturing sector.
This was evident during the COVID-19 pandemic, when medical-device manufacturers were forced into in a race against time to meet the demand for material to adapt the health system to the health crisis. Investment in medical equipment was directed at containing the spread of the virus, treating the affected patients, and performing diagnostic tests. And in many cases, it left hospitals with an evident net gain.
According to biomedical engineer Cristián Rojas, who is Head of the Medical Equipment Unit at Hospital Barros Luco Trudeau, in Santiago de Chile, after overcoming the challenges of the pandemic, in an exclusive GHI interview for HospiRank 2022: "As regards hospital equipment, the pandemic ended up being a great opportunity for growth in technology: thanks to a successful bed conversion process, the Intensive Care Unit (ICU) went from having 31 beds before the pandemic to 111 beds at the peak of the health emergency, and in the Intermediate Treatment Unit (ITU), we went from 48 places to 73."
Most of the equipment the hospital received in 2020 and 2021 was linked to critical inpatient care: invasive and non-invasive mechanical ventilators, electric clinical beds, high- and medium-complexity vital signs monitors, and high-flow nasal cannulas. It was also an opportunity to replace and modernize obsolete equipment with state-of-the-art equipment in the various specialties.
The case of Mexico was different because in 2020, according to a survey conducted by Global Health Intelligence, it grew primarily in three medical equipment categories: image file and communication systems (25.6%), angiography systems (20.2%), and CT scanners (16.2%). The surprising aspect of this study is that ventilators and patient monitors were not among the top 10 medical equipment types with the highest growth in Mexican hospitals in 2020. In fact, many of the highest-growth equipment categories in 2020 turned out to be machines for specialized treatment, such as linear accelerators and robotic surgery systems.
The Latin American market for medical equipment consists of more than 20,000 hospitals that need to constantly expand or update their diagnostic devices and therapeutic instruments. These include premier-level health institutions in the private sector, such as Hospital Israelita Albert Einstein in Brazil, which uses top-of-the-range technology in various specialties.  It should also be remembered that the public sector, which provides generally cost-free treatment to populations, through access to health in organizations funded by national states, is a large market constantly in need of equipment. In Latin American countries, public hospitals make up a large part of their health systems: 58% in Brazil, 61% in Mexico, and 51% in both Argentina and Colombia are hospitals run by national governments or other jurisdictions.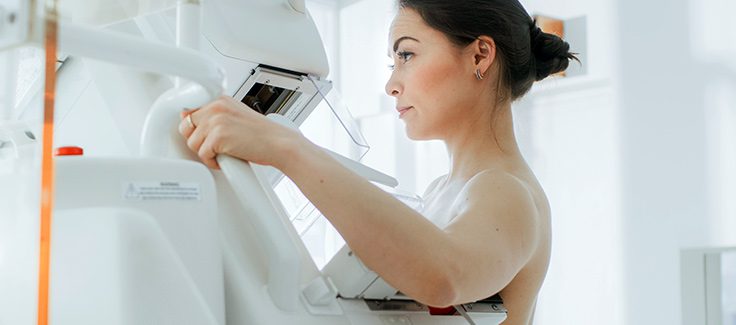 A new generation in top-of-the-range equipment
Oncology is the discipline that has benefited most in recent years from advances in the development of new technologies.
Below is a selection of the main trends, plus a breakdown of which developments were the most important in the last two years in terms of approved technology for cancer diagnosis and/or treatment.
Advancement in prostate cancer diagnosis. On December 1, 2020, the FDA approved a new type of diagnostic imaging technology to confirm the spread of recently diagnosed prostate cancer with suspected metastasis. The approval also included its use for confirming suspected cancer recurrence in men who have increased prostate-specific antigen (PSA) levels after treatment. The approval was based on two clinical studies showing that this new technique is safe and congruent for the precise detection of cancer spreading beyond the prostate gland.
CRISPR technology revolutionizes gene editing. CRISPR is a technique that works like high-precision scissors to delete, insert, or edit specific pieces of DNA inside cells. The revolutionary gene editing tool was discovered in a different project, in which the researchers were curious to find out how bacteria combat viruses. In 2020, Doctors Jennifer Doudna and Emmanuelle Charpentier won a Nobel Prize after the discovery of key findings on CRISPR. A year earlier, the first clinical trial of a CRISPR immunotherapy for cancer began in the United States, and there are now more studies looking into other cancer treatments with CRISPR. Tests for using this unprecedented technology directly in the body were also begun. While it is an unprecedented technique, CRISPR still has its limitations, and the ethical aspects of gene editing are still under debate.
Artificial intelligence for faster diagnosis. AI can improve cancer diagnosis, the production of medicines, and precision medicine.  Artificial intelligence consists of programming a computer to act, reason, and learn. It is fantastic for finding patterns in enormous amounts of data—a very useful feature, particularly in scientific research. In the United States, the National Cancer Institute (NCI), the Department of Energy (DOE), the Frederick National Laboratory for Cancer Research (FNLCR), and an interdisciplinary group of researchers are using artificial intelligence to advance the development of digital twins of patients with cancer, to test the efficacy of the treatments on these virtual patients before using them in the real person. AI has other applications that have already begun to revolutionize cancer treatment.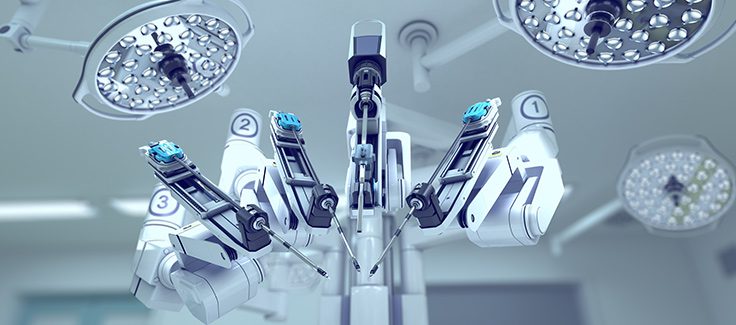 More precise minimally invasive robotic surgery for cancer
With robotic surgery it is possible for patients to recover faster and get back to normal life earlier. With traditional techniques, a prostatectomy used to require a large incision from the navel to the pubic bone. Now though, it is possible to insert robotic arms into the body through small incisions. Surgeons control these arms with a special console that also shows them an amplification of the area they are operating on in real time. With the aid of robotic surgery there is less blood loss and less pain. In the prostatectomy example, the patient could leave hospital the day after surgery.
Telemedicine takes care to the patient. Providing cancer care and clinical trials for cancer is essential, and this was true even during the pandemic. Many health organizations incorporated or expanded telemedicine services to provide remote treatment and care for cancer patients. This requires specialized equipment to ensure the safety and efficacy of the care, in which both video consultations and remote treatments are carried out (it is now possible for patients to even receive chemotherapy at home).
Electron cryomicroscopy improves diagnostic imaging to plan treatment. These are high-resolution images of molecular activity to take pictures of molecules ten thousand times smaller than the width of a human hair, at a resolution so high that it did not even exist a decade ago. Not long ago, researchers at FNLCR used electron cryomicroscopy to show how a chronic myeloid leukemia drug interacts with ribosomes (a molecular structure within the cell that helps make proteins). During the process, they generated the most detailed image of the human ribosome that exists today—an achievement that will help create treatments for cancer and other diseases.
Ultrasound: an ally in early diagnosis and prevention
Ultrasound is among the diagnostic methods that can be used to detect potential cancer lesions in a fast, non-invasive, radiation-free way. For example, elastography and the high sensitivity of Doppler techniques provide a new layer of information to guide treatment options and transform care delivery. According to Humberto Izidoro, Director of Varian Medical Systems for Latin America at Siemens Healthineers, and Paulo Pontes, Director of Ultrasound for Latin America at Siemens Healthineers, this technology marks a watershed for the cancer patient journey.
Image-guided solutions for interventional oncology.  The trend toward personalized patient treatment at each step of interventional therapy is becoming more established thanks to new equipment that provides high-quality images to guide the surgeon to make the best decision in real time.  An example of this type of high-tech equipment for diagnosing and operating on cancer patients during the same surgical intervention is the syngo DynaPBV Body. The device shows the distribution and amount of blood in lesions and surrounding tissue by means of color-coded cross-sectional blood volume maps, and so helps to evaluate blood volume information to observe changes in perfusion throughout the treatment.
Next steps
Contact GHI if you would like to learn more about the outlook of the medical equipment sector in Latin America, as well as information about the best-equipped hospitals in the region and their expansion plans.