HOSPITAL SPOTLIGHT | Hospital Universitario Méderi: Investing in Technology to Provide Patients a Better Service
By Lina Vanegas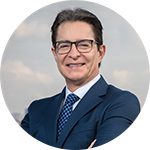 We had the opportunity to chat with Doctor Mauricio Rubio Buitrago, executive president of Hospital Universitario Méderi in Colombia. One of the best equipped institutions in Colombia, Méderi currently has two locations in Bogotá, more than 4,500 employees, more than 1,000 students, and treats around 3,000 patients daily.
After more than two long years of coping with the pandemic, do you think things have finally improved for hospitals and clinics?
When the pandemic began, hospitals had a rebirth. We learned to move quickly and flexibly to adapt to the change. We learned the importance of supporting our human talent, and we improved communication with the relatives of patients being isolated. And with all these changes resulting from the pandemic, we continued growing and making the necessary adjustments.
What are some of the main types of medical equipment the hospital needs to buy or replace on a regular basis?
Every year we invest in technology because it advances so fast and we know that that helps improve our diagnostic capability and provide our patients a better service. Last year, we installed a 3-Tesla MRI scanner. We automated the clinical laboratory with robots, and that has given us agility in getting results back and the ability to generate highly detailed readings. That makes us one of the best equipped hospitals in Colombia.
What kinds of health challenges do you think the hospital is facing right now?
The health challenge represented by COVID is on the decline. In the pandemic, we went from having 350 patients hospitalized because of COVID, to having just four. What is happening now with the removal of face masks is that we are facing a new epidemic of new viruses such as influenza or hepatitis. We have some degree of cost overruns due to the amount of protective equipment, but broadly speaking we have it under control.
Is there any special new initiative with respect to patient care at the hospital that you would like to share with us?
COVID made us understand the importance of omnichanneling: the whole topic of telehealth, telecare, and all the means of communicating with patients, taking the hospital into their homes, and being able to do follow-up until they recover, that became our obsession. This is why we are developing a patient communication center that includes various channels for all types of patients.  In addition, we have new developments in stroke treatment, as we know that this type of care is time-sensitive. We made a lot of progress in the speed of CT scans, which is how we shortened diagnosis time and saved lives.
Do you have any expansions, renovations, or new units planned in the medium or long term?
Yes, the monitoring system for patients and authorizations is expected to have a physical center to be in contact with the patient, and to have audio and video communication, and physical transportation if needed. We have also completed new rooms and renovated diagnostic equipment.
Are there any interesting new equipment purchases you can share with us?
We are renewing some of the CT scanners we have, surgical lamps and tables, nurse-call buttons, and vital-signs monitoring equipment, and we improved the endoscopy area.
Are there any key factors driving hospitals like yours to purchase new medical equipment?
We are obsessed with constantly seeking better results and ensuring patient safety. So we act in accordance with those two priorities when it comes to purchasing new technology or equipment. This is how we are able to deliver a faster and more accurate diagnosis to benefit the patient.
What kind of equipment or devices do you think Colombian hospitals will need most in the coming years?
We need to improve medical-history software so that it has the ability to gather all the medical information, to be able to make better decisions and at the same time enable interoperability with the health insurance companies and with other healthcare providers in the country.  I therefore see an opportunity to improve the operational technology, so that our patients will face less and less red tape and have omnichannel tools that make their lives easier.
What do you think are the main challenges hospitals need to face in Colombia after the pandemic?
I can sum it up in two words: Not forgetting. Because the pandemic left us with plenty of lessons. It showed us our fragility, not just in terms of health, but in trade, transportation, etc. We are left with many lessons to always remind us and prepare us for unimaginable events. So my suggestion is to not forget the lessons learned.