HOSPITAL FOCUS with Clinica Alemana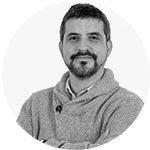 Interview with Dr. Alejandro Mauro
Head of the Biomedical Informatics Department
Clinica Alemana
After the pandemic, which forced us to make traditional channels of communication with patients more flexible, Latin American health systems are now facing the challenge of managing institutional treatment by incorporating the technological adoption that grew rapidly over the last two years. One example of this is the development being carried out by Clinica Alemana in Santiago de Chile to solve the problem and avoid the associated risks.
Dr. Alejandro Mauro —Head of the Biomedical Informatics Department at Clinica Alemana in Santiago de Chile— says the outbreak of the COVID-19 pandemic spurred the legislative changes needed for the adoption of technology in medicine. According to the innovation expert, that process was generally at a standstill in Latin America because of two main factors: legal obstacles and pushback from healthcare professionals.
He also, however, points to a scenario that was not anticipated: the COVID-19 pandemic has positioned Meta's instant messaging app as an unexpected channel of communication between doctors and patients. Accordingly, Mauro says health systems are faced with the challenge of maintaining the management of medicine within the institutions. Here we share his detailed answers to our questions.
Why did the pandemic speed up the adoption of telemedicine or virtual consultations, solutions that were already developed in Latin America?
Because of the legal obstacles and because there was no funding to make the technological changes; and if something isn't funded, it doesn't exist. Telemedicine had been adopted in places where it was the only option. The history of telemedicine is closely tied, for example, to the world of shipping. Not all ships have a doctor aboard, and there are thousands of ships. Telemedicine measures have been used on ships for more than a century. But those circumstances aside, society was failing to take advantage of innovations in the field of telemedicine. They went no further than being pilots to the production and implementation stage, because there was no funding for them and because the legislation made it really difficult.
What barriers were there to the adoption of telemedicine?
There were old regulations that meant prescriptions and a lot of medical documents could not be generated digitally at the source. Electronic prescriptions, for example, were not implemented because of legal obstacles. All Latin American countries said that prescriptions had to be written out by hand. Then along came COVID and it upended everything. Doctors had no way of getting to patients. Patients had no way of getting to hospitals, so then countries had to completely change their whole philosophy of trying to avoid this, which in a way is what had been happening. Even in countries that already had payment policies in place, like the United States, there was a lot of opposition. For example, they would say, "How can we hold video consultations via Zoom? No, there has to be a special system hosted on a secure server." As if video were a problem. Then, there were numerous limitations. For example, there were limitations that were built into the HIPPA Act on personal data protection: medical consultations couldn't be done via Google Meet or Zoom, or any of the traditional video conferencing platforms. It meant having to get a specific company to make a dedicated video component for the institution's medical informatics solution. When COVID arrived, all those obstacles were lifted. Even using WhatsApp was allowed, and the use of technology went from being within a very restrictive context to a very permissive one.
So is there now a context of risk in terms of data being shared?
Yes, because all this use of informal channels has several implications. When medical information is delivered on certain networks with automatic reading mechanisms that are shared with users, these users need to be aware that they are ultimately providing Google, Facebook, or Apple with their personal information. And they will use that information to then sell us something. It's a dilemma that is still quite open because today, effectively, the largest digital health system in the world is WhatsApp. That's why it is currently the platform that knows the most about health.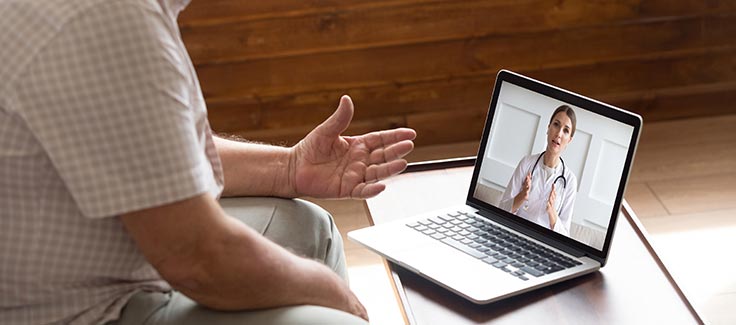 What a revelation!
WhatsApp has the greatest amount of health information today because doctors are currently communicating with patients through that app, and because doctors are communicating with each other through WhatsApp; they interact with things about the patient. It's an app that everyone has, and that is used more than email—there are loads of email providers besides Google—but WhatsApp is Meta's alone. That sort of set the stage for what, to me, is a problem that we're in and that we still don't know how to get out of. As I see it, a lot of people's information is going through that network.
Do we know if there is any kind of policy or pronouncement from Meta, the company that owns WhatsApp, about this issue?
No, not at the moment. But the issue of Facebook sharing patients' mental health information is being looked at. A paper by JAMA (Journal of the American Medical Association) looked at apps for smoking cessation and depression. These apps that are in the stores for anyone to download, they take the data or health information of their users, for their clients. The study found that Facebook was sharing that mental health information with third parties. What does that mean? It means a person who, for example, is depressed may get offers of all kinds that will supposedly cure their depression: a course on how to be positive, drops, whatever, that are based on dubious scientific evidence. We start getting into a gray area that is difficult to work out.
Algorithms don't differentiate
It's not even done by a human; it's done by a machine. This means the machine could make the decision to start sending out advertising about the topic related to your data. It isn't a question of somebody programming it maliciously, it's just the way e-commerce works: it's guided by machine learning algorithms. A machine learning algorithm will correctly identify that this user needs to be sold some therapy.
Could we say that the borders between health and pseudo-health are being expanded or blurred, that it is more about providing a health service as an excuse to sell something? Do you think that is the danger?
It is a danger that the medical world is aware of, but the problem is that there is so much ignorance around how the technologies work. We don't know how Facebook's data center functions. I have no way of knowing the risks, except when a complaint occurs. There is a JAMA article highlighting this problem of data privacy in the use of health apps. I think there was a boom in the use of social media by doctors during the pandemic, and we don't know how that will impact health management. All we know is that the pandemic led many more people to use digital channels to talk to healthcare professionals, and it got the most reluctant healthcare professionals to finally come around to using those channels for communication. Digital channels, meaning the social media channels, set to work on solving health issues. I believe that is a big problem because the institutions are not thinking about putting a solution forward.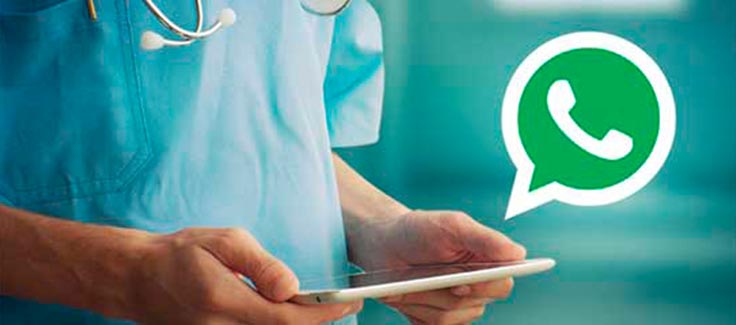 Doctor–patient contact shifted to informal channels.
Now what needs to be done is to move the conversation that is happening today on public channels over to institutional channels, which will enable us to not only guarantee the security of the information being shared, but also help ensure that this won't fuel a problem that is impossible to solve. Healthcare professionals, in addition to caring for patients, have families. I get video calls at three in the morning telling me that José has a fever. At three in the morning, I'm asleep. You start to see a certain level of abuse that normally occurs with this kind of thing, and it creates conflict. Everybody has my phone number now. What do I do? Change my number? Do I need two phones? There are some doctors with two phones, some with three. In the end, telemedicine actions start to get blurred, or sometimes lines are crossed, which is a problem. One of the pending topics we have as institutions is to put forward alternatives. At Clinica Alemana, we're building a formal channel for communication with patients.
What does the solution entail?
We are looking at building a formal channel that will somehow be able to manage and govern all the information that gets exchanged. If you, as a patient, write to a doctor, a healthcare professional that attended to you, what we expect first of all is that they will answer you, answer the patient. And that response to the patient may be that that professional is travelling or somewhere else, meaning another would have to respond to you. It means you can manage the "I'm not here, someone else will answer my messages," to be able to refer and provide a service with the appropriate timing. Ultimately, a kind of logic begins to prevail where we can first track the communications, and know how long that takes. Today, it is something we can redimension. At present, we don't know how many hours professionals spend in informal channels of communication with patients.
That leads to billing issues because we don't know how many hours of their personal time doctors spend answering patient inquiries; and also legal issues, in cases of malpractice suits: there are medical decisions left out of the clinical record. That is why the institutional solution must be integrated with patients' electronic medical records.
Are you considering implementing bots?
There are various health robots, but they are still very limited. The bot does what it was programmed and designed to do. Broadly speaking, no one is designing bots to make medical decisions because it is still not that easy for them to diagnose and prescribe treatments.
If you look at the big developments, like Ada Health or Babylon, they still don't give medical indications, only recommendations. Their responses to health inquiries are still at that level. I believe the institutionalization of doctor–patient communication technology tools is the issue that needs to be looked at. We have a plan for that and we are now sure that it is something we have to take care of, and that the management is looking to develop.
Are you developing it yourselves or through external providers?
The development is being done partly by the Clinic and partly by the providers; we're doing it jointly.
About Clinica Alemana of Santiago de Chile and its Department of Biomedical Informatics
Clinica Alemana in Chile is a leading private clinic for diagnostics and treatment in all medicine and health specialties, seeking to contribute to the development of medical knowledge for the benefit of the community. The mission of Clinica Alemana's Department of Biomedical Informatics is to generate evidence and develop innovative solutions that will help maximize the impact of information technologies in the field of health and promote telemedicine and telehealth in Chile.
Learn more about the adoption of telemedicine in Latin America
Contact us to find out how we can offer you a study on telemedicine in Latin America. Our team—in addition to recording in our HospiScope database the hospitals in over 15 Latin American countries that have telemedicine systems—can put together a telemedicine market study based on your needs.