10 Growth Areas in LatAm's Capital Equipment Market, 2020-2021
Healthcare facilities across the world faced the worst public health crisis in recent history during 2020; Latin America was no exception. GHI recently analyzed and released the year-end data for HospiScope 2020, identifying specific capital equipment that expanded and contracted during this period.
In 2020, the GHI team conducted interviews with over 10,000 hospitals across Latin America in order to monitor equipment counts and installed capacity of key capital equipment. This data fuels HospiScope, which the world's top medical equipment & devices manufacturers use to identify prospects, understand the marketplace, conduct propensity analysis and more.
Data was obtained from hospitals in 17 markets across Latin America, including Argentina, Brazil, Chile, Colombia, Mexico, Peru and Puerto Rico, amongst others. GHI compared aggregate equipment counts in the hospitals in these markets in 2020 versus 2019 to analyze which capital equipment types posted growth or contraction.
The 10 Medical Equipment Types That Grew the Most in 2020 in Latin America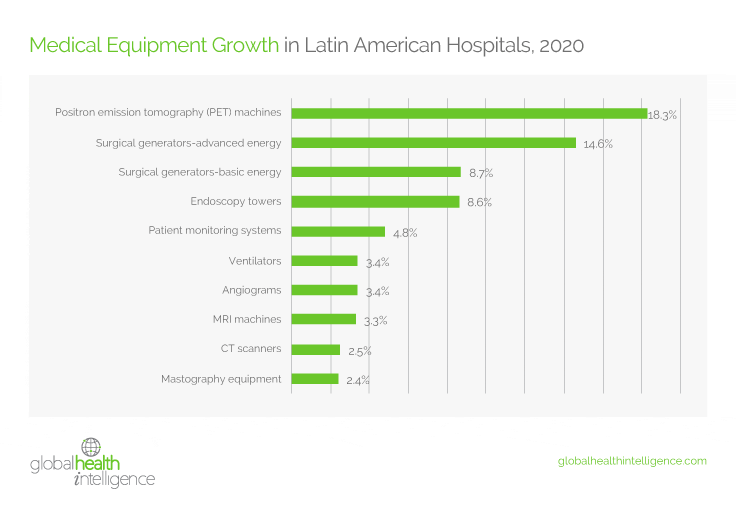 The 10 Medical Equipment Types That Contracted the Most in 2020 in Latin America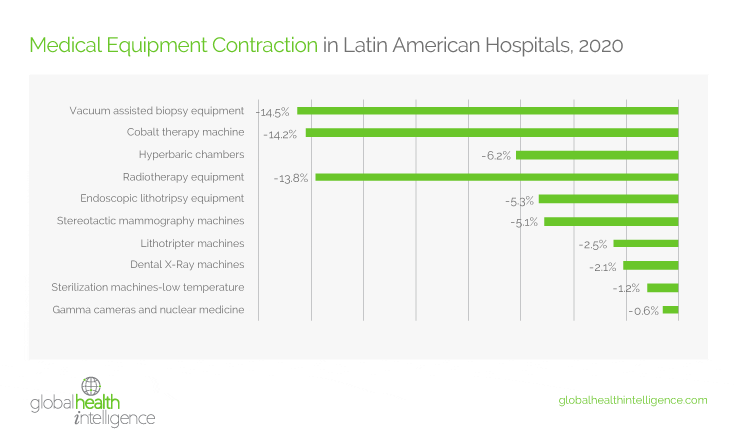 Explore More
What are the key drivers of growth and contraction? What will 2021 bring? Will the categories that contracted in 2020 rebound during 2021? Will the categories that grew in 2020 continue to grow?
Our InScope service can help answer those questions via customized research that can allow you to gauge demand for your preferred product types all over Latin America or in specific markets.
You can also subscribe to our LatAm Hospital Monitoring Service to get the latest data on hospitals in your preferred market, every week, all through a PowerBI interface for easy data visualization.
Contact us for more information about these and other market intelligence services that help medical equipment/device companies drive their success in Latin America.