The Ten Most Common Surgical Procedures in Brazil
By Guillaume Corpart
Besides offering data about medical equipment, staff, and technology in Latin American hospitals, GHI also focuses on documenting the types of surgical procedures that are performed in the region's hospitals.  That's why GHI launched SurgiScope — a database that compiles these procedures in Brazil, Colombia, Chile, and Mexico.
Brazil is the region's largest hospital market, with over 8,500 hospitals and surgery centers. In SurgiScope, we feature data for Brazilian public and private institutions. Our data offers an interesting look at Brazilian healthcare, especially considering that 58% of hospitals and surgery centers in Brazil are private.
Here is a look at the most common surgical procedures performed in Brazilian health institutions, each with over 100,000 cases conducted per year:
C-section: A common surgery to deliver babies.
Wound suture: A procedure used in a majority of surgical interventions.
Cataract surgery: Phacoemulsification with intraocular lens to restore vision.
Cholecystectomy with and without cholangiography through video laparoscopy: Removal of the gallbladder.
Debridement of ulcer: Removal of dead (necrotic) or infected skin tissue to help a wound heal.
Inguinal / Crural hernioplasty: Use of a prosthetic mesh to prevent the inside of the abdominal cavity from protruding outwards again.
Treatment of post-organ transplant: With the injection of immunosuppressant (anti-rejection) drugs.
Appendectomy: Removal of an infected appendix.
YAG laser capsulotomy: Conducted to help patients see clearly after cataract surgery.
Umbilical hernioplasty: Surgery to repair an umbilical hernia.
Hysterectomy (total or partial): Surgical procedure for the partial or complete removal of the uterus.
Prostatectomy (total or partial): Surgical procedure for the partial or complete removal of the prostate.
Thoracentesis (pleural tap): Removing air or fluid from the pleural space.
Vasectomy: A form of male birth control that cuts the supply of sperm to semen.
Surgical treatment of the distal metaphysis: Procedure to treat a fracture.
How Well Do These Procedures Reflect Health Concerns in Brazil?
The World Health Organization identifies the following as the top causes of death in Brazil (deaths per 100,000):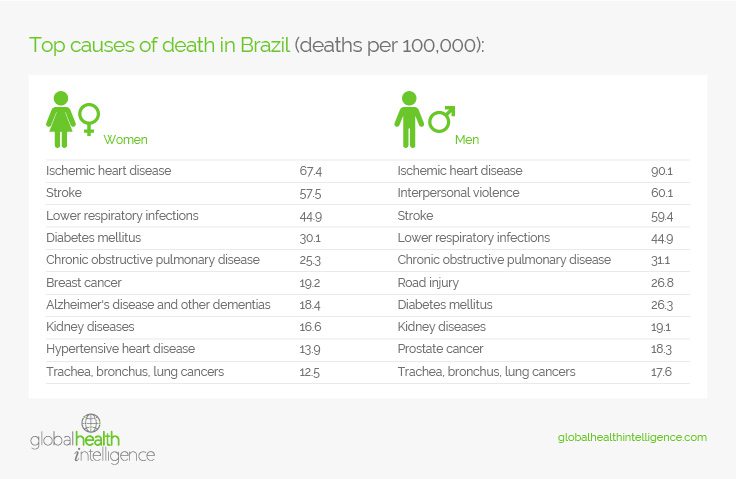 There may be several reasons that surgical procedures don't reflect the top causes of death. One is that most procedures are not about preventing death, but rather about bringing life (such as C-sections) and improving quality of life (such as Cataract surgery). Other procedures still help patients recover better or faster (such as the use of wound sutures).
Analyzing the leading causes of death points to a late or under-diagnosis of certain conditions, including forms of cancers and heart diseases. Furthermore, lifestyle choices, notably food and exercise, impact both longevity and quality of life but are not reflected in these statistics.
Finally, not all causes of death could have been prevented by surgical intervention.
What Does This Data Tell Us?
Although prevalent surgeries and causes of death don't necessarily reflect the complete health picture in Brazil, they do offer interesting insights for professionals and help us understand the multi-faceted aspect of a health system. The types of surgeries reflect conditions that are most often attended. As a result, they also reflect hospital market demand in terms of medical equipment/devices and pharmaceuticals that are needed to treat these conditions. And this hospital segment can be a lucrative target for companies.  Through SurgiScope, Global Health Intelligence can help you pinpoint which institutions are conducting which procedures, thus enabling you to focus your sales force on the largest opportunities.
Next Steps
Contact us to learn more about SurgiScope or any of GHI's solutions.  GHI has a unique service offering available to help you expand your market share and find new opportunities across frontier markets in Latin America.