The Adoption of Omnichanneling in Health Sector Companies (Part One)
By Daniela Chueke Perles
Omnichanneling is a business strategy that involves integrating and coordinating multiple channels of communication and sales in a unified strategy to provide a consistent, smooth experience. In the context of health sector companies, omnichanneling can be extremely valuable for improving patient care, operational efficiency, and overall customer satisfaction. In this first article we will talk about omnichanneling's potential reach for the health sector in Latin America.
At GHI in recent years we have noticed how the adoption of omnichanneling by health sector businesses in Latin America has grown year after year. We are also seeing how the different health systems and characteristics in each country pose various unique challenges to the adoption of omnichanneling.
For example, GHI data show that Brazil, the region's largest country, has more than 6,700 hospitals. There seem to be few companies in Brazil with direct distribution throughout the country. It is difficult to cover without support from local distributors. In addition, local tax and auditing laws are complex to navigate. Here, omnichanneling is perhaps beginning to grow stronger in those states that have more hospitals to capitalize out of the established critical mass.
Like Brazil, each Latin American country has a different health care infrastructure that might require hospitals and health sector companies to adopt a specific strategy for omnichanneling implementation to be successful.
Omnichanneling aimed at hospital patients
The aim of omnichanneling for patients is to provide a smooth and stable experience throughout the patient-care cycle, using multiple communication and service channels. For example, with regard to medical appointments, patients can be offered several options for scheduling appointments, through phone calls, websites, mobile apps, or live chats. It means they can choose the most convenient channel for them, avoiding the need for long waiting times.
Another option is the implementation of a patient portal, consisting of a secure online portal where patients can access their medical records, schedule appointments, view test results, communicate with their doctor, and make payments. This portal has to be accessible from mobile devices and computers, providing an omnichannel experience and allowing patients convenient access to their information.
In terms of post-treatment care, continuous communication can be maintained with patients after treatment through satisfaction surveys, symptom tracking, and follow-up appointment reminders. This helps sustain a lasting relationship with patients and ensure their comprehensive, ongoing care.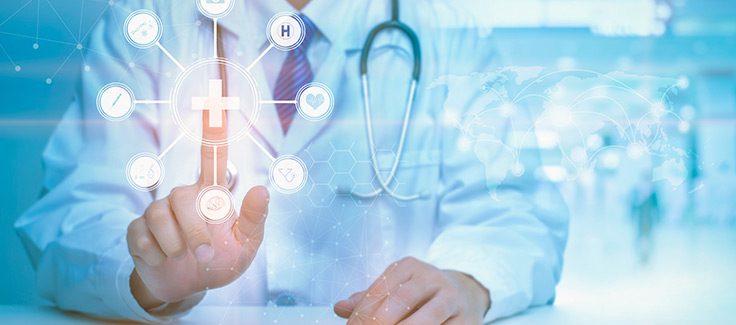 Omnichanneling applied to health sector companies
Health sector companies can adopt omnichanneling in different ways. For example, by using integrated digital platforms,  patients can access medical services, schedule appointments, view test results, receive medication reminders, and communicate with health care professionals through different channels, such as websites, mobile applications, live chats, and text messages.  In addition, the use of telemedicine has gained particular relevance in recent years, and is an important part of the omnichanneling strategy in healthcare. It allows patients to access medical services remotely through doctor's visits via video, which eliminates the need for travel and reduces waiting times.
There are also multi-channel communication tools that offer fluid, ongoing communication, such as emails, text messages, push notifications on mobile applications, and social networks. These can be used to send appointment reminders, test results, health advice, and other relevant information, to ensure patients get the information they need.
Another option is data integration through customer relationship management (CRM) and electronic health record (EHR) systems, which are able to collect and analyze patient data across multiple points of contact. This helps to customize care, improve efficiency, and detect patterns and trends to enable informed decision making.
Omnichanneling for buyers of medical equipment and hospital supplies
The most useful channels that can be developed for these types of buyers include websites and online stores. By developing a robust website that serves as a central point to display products, they can provide detailed information, prices and buying options. In addition, online stores allow buyers to make orders directly through the website, providing secure payment options and efficient order processing.
Marketing on social networks and online content can be used to promote products and generate interest among buyers in the medical equipment industry. This may include social media posts, blogs, demonstration videos, and customer testimonials. Digital catalogs are another option for buyers to explore and examine products and their characteristics in detail. Physical catalogs can be sent out by email or distributed at trade shows and industry events.
Another strategy is to work with sales representatives, who are supplied with digital tools and access to up-to-date catalog and customer information so that they can provide buyers with a timely, personalized service. In addition to this, online support through live chats or direct messaging on the website allows buyers to make real-time inquiries and receive quick responses to questions about products, pricing, availability, and technical characteristics.
Lastly, implementing tracking and after-sales services is important for sending follow-up notifications, providing updates about order status, and offering ongoing post-purchase assistance, including technical support, warranties, and maintenance options.
In the next part of this article, we will talk about some of the pros and cons of omnichanneling in health sector companies, as well as the potential risks for medical providers.
Next steps
Contact GHI if you would like to learn more about omnichanneling and its application in the medical equipment and device sector in different Latin American countries.