HOSPITAL SPOTLIGHT: San Borja National Institute for Children's Health: Maintaining the lead in high-complexity pediatric health care
By Daniela Chueke Perles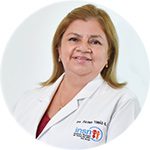 In an exclusive interview with the HospiRank team, Dr. Zulema Tomas Gonzales—CEO of the San Borja National Institute for Children's Health and former Peruvian health minister—reveals what strategies for pediatric public health her country uses to promote quality care in high-complexity treatments.
After more than three long years of coping with the COVID-19 pandemic, do you think things have finally improved for hospitals?
In Peru, we had our first case on March 8, 2020, and within a week there were already 34 cases. We never locked down, and we immediately made a contingency plan where, having 309 beds, we were able to differentiate: we had 12 intensive care units—as we have several entrance doors—to attend to COVID patients; 60 hospitalization beds for children and teenagers with COVID, but we carried on treating our children with heart disease or brain tumors because those children would have died otherwise.
The pandemic threw the country's professional and administrative health staff into the limelight; we weren't equipped to cope with this pandemic.  Previously, there were 250 intensive-care beds and 4,000 hospitalization beds in the entire country. Today, after the pandemic, we have more than 1,800 ICU beds and more than 18,000 hospitalization beds. The pandemic unified us with the country's public health.
What kinds of health challenges is the hospital facing right now?
Right now, we have a contingency plan in place for monkeypox, because we cannot think that it won't spread to here, as we said when COVID happened. Learning to work together, the Church, the Ministry, private clinics, social security hospitals, we were all working as one.
Major challenges:  for us to carry on and be prepared for complex pathologies such as kidney and bone-marrow transplants (378 children with transplants), and MRI scanners and angiogram equipment that enable us to do ablation without opening up the heart. This year, we are looking to do heart transplantation with ECMO support.
Does the hospital have plans for expansions, renovations, or new units?
We have a built area of 32,000 m², and we are unable to grow any further under the health architecture and construction protocols. But as we need to be able to care for more cancer patients, we have asked the mayor of the district where the hospital is located to give us a small park of 120 square meters situated next to our building. The project is to build a 5-story building equipped to provide care for the 30 percent of patients with leukemia that increased after the pandemic.
Are there any key factors driving hospitals like yours to purchase new medical equipment?
As a research hospital, we investigate how the equipment other countries already have is giving the results that the companies claim in their presentations. The priority is quality and safety of patient care, according to existing scientific studies. We also pay close attention to the time of use, and we look for fast equipment because we attend to children, although in Peru we do not have a budget for making purchases from one day to the next.
Are there any interesting new equipment purchases you have planned for 2023?
The hospital has been in operation for nine years, so the initial round of investment, which began with its first major equipment purchase in 2012, has not yet concluded. In any case, we have applied to the Ministry of Health for a new CT scanner, as the one we have has become outdated. We are also on the way to acquiring a 3-tesla MRI scanner this year, and a state-of-the-art echocardiographic machine. Happily, the state understands us and we are demonstrating results in terms of health management and quality.
What is the hospital's most important high-complexity treatment, and how do you maintain excellence?
The hospital is a pioneer in telehealth. We started working in remote care in 2015 with three hospitals and three regions of the country. Today, we are connected to 25 regions, providing remote consultations to their hospitals, where there are no specialists. The growth of telehealth was also driven by the pandemic, because the state, seeing the need to connect the most remote districts, supplied all the regions with more of the equipment they need for this. In seven years, we have treated more than 6,000 patients, providing treatments, high-complexity studies such as echocardiograms and CT scans, and stabilizing patients until they can arrive at the Institute to have surgery.
About the San Borja National Institute for Children's Health

The the San Borja National Institute for Children's Health (INSN SB) is a high complexity pediatric surgical and specialized hospital center that receives children and adolescents from other hospitals in Peru. It is staffed by highly qualified health professionals and carries out research and teaching on a national level.