LatAm Healthcare 2020: The Good, The Bad and The Ugly
Healthcare in Latin America is paradoxical. On the one hand, we're seeing encouraging growth in the acquisition of medical equipment/devices by LatAm hospitals, as evidenced by the growth in some key markets. However, numbers are down in key markets, including Brazil – the region's largest hospital market. Budget deficits among LatAm governments and economic challenges are squeezing margins and could impact growth negatively—right when longer-term demographic and epidemiological trends are exerting greater pressure on healthcare systems.
The Good
Latin America seems like an ideal target market for medical equipment/devices manufacturers. It's home to more than 22,000 hospitals—nearly a quarter (24%) of the world's total. However, LatAm hospitals are small, with an average of 45 beds versus a US average of 160. Smaller hospitals can't afford large capital equipment so the vast majority of LatAm hospitals are ill-equipped for modern procedures.
Even with these built-in hindrances to demand, in 2019 we still saw imports of medical devices and equipment go up in several markets. Imports are a close proxy to sales, since imported devices are brought in to be sold or are presold, instead of being imported for inventory. (Note: import numbers cover not only equipment but also parts, since hospitals often repair their existing installed base instead of buying whole new machines.)
In 2019, Mexico posted strong increases in the import of various equipment, device and parts:
>80% increase of computed tomography machines and parts
>75% increase of heart valves
>75% increase of ultrasound machines/parts
27% increase of electrocardiograph machines/parts
8% increase of pacemakers
5% increase of MRI machines/parts
From 2014-2019, Mexico volumes (quantities) grew at a CAGR of 12%. In Mexico, we're seeing a generalized margin compression of 22% (weighted average), which stems from President López Obrador's policies to reduce healthcare expenditure by consolidating tenders and inviting more foreign competition.
Other markets also posted gains in volume:
Colombia posted increases in eight categories of medical equipment/parts, most notably with a 38% uptick with CT scanners & parts and 29% growth with ultrasound machines & parts
Argentina showed increases in six categories, with the biggest growth in MRI machines & parts (9.7%)
Ecuador grew in seven categories, mostly in double digits, including a 59% uptick in CT scanners & parts and a 39% increase in ultrasound machines & parts
The Bad
Not all markets posted growth in imports during 2019, most notably Brazil, where we saw:
49% decrease of electrocardiographs
37% decrease of computed tomography equipment
22% decrease of X-ray machines
9% decrease of heart valves
5% decrease of ultrasound machines
2% decrease of MRI equipment
These numbers highlight decreases in quantities of these equipment types, with decreases also in the value of said equipment.
Overall, the value of medical equipment brought into Brazil in 2019 decreased by 4% and the quantities of this equipment went down by 2%.
While Chile showed impressive growth with CT scanners & parts (80%) and pacemakers (32%), 2019 also showed drops in a number of other categories, including EKG machines (46%), heart valves (30%), MRI machines (21%) and radiography/radiotherapy equipment (19%). Overall, Chile posted a 37% decrease in the quantities of medical equipment brought into the country, despite a solid growth in value (4.4%). The weakening of the Chilean peso, triggered by political unrest in Q4, likely suspending the imports of equipment and materials that were adequately stocked in Chile.
Peru, one of our favorite growth markets for the past few years, showed a contraction in 2019, posting negative results that arguably outweigh the positives, including drops in quantities imported of radiotherapy/radiography equipment (74%), artificial joints (33%), ultrasound machines (27%), CT scanners (26%), MRI machines (18%), EKG machines (5%) and heart valves (2%). The political quagmire in Peru, especially in Q4 2019 when congress was dismissed, likely played a role in the downturn in demand.
Budget cuts are likely driving these decreases. Approximately 44% of hospitals in Latin America are public or mixed and therefore depend on government funding, and many Latin American countries are still struggling to reduce fiscal deficits.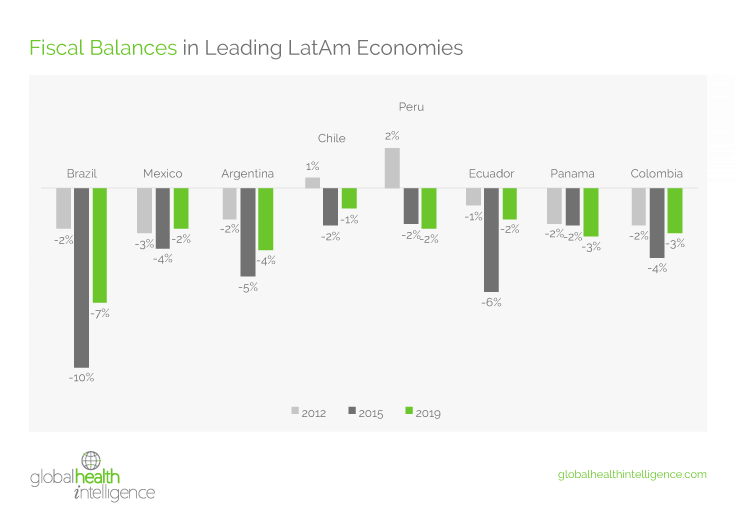 Budget challenges ill-prepare governments to tackle the enormous healthcare challenges ahead led by increases in: obesity, non-communicable diseases (like diabetes and heart disease) and aging populations, all of which will dramatically impact healthcare systems over the next thirty years (starting now). By mid-century, it's projected that 214 million people (nearly 1/3 of the population) in Latin America will be over 60 years old, resulting in shifting needs from a healthcare standpoint, particularly focused on chronic ailments.
The Ugly
As difficult as 2019 proved to be, the decade ahead will really challenge Latin American health systems. The cost of healthcare as a % of GDP will grow by close to 30% over the next decade but few Latin American governments have a plan, much less the funds to tackle this challenge. Public healthcare in Latin America remains woefully inefficient. Bloomberg's most recently published healthcare efficiency ranking ranked Brazil, Colombia, Venezuela and the Dominican Republic on the low end of its scale. This means there is room for cost reductions by i) changing how healthcare is managed and ii) allowing disruption to enter the sector through the private sector.
Public hospitals and their government bosses will continue to squeeze the profits of suppliers, as the AMLO administration in Mexico has proven can be done. Unfortunately, that is a short-term solution that shifts public hospitals to rely on less innovative, cheaper suppliers who may be less likely to install the kinds of game-changing technology that hospitals must invest in to disrupt their inefficient ways.
In other words, business as usual in Latin America is drawing to an end. The public market demands lower price equipment and devices and is willing to sacrifice quality to get there. The private sector requires disruptive new approaches to cut costs and massify their service capabilities as private clinics fill the gaps left by a fiscally cornered public sector. Change is often ugly in the short term but opens opportunities in the longer term. That is where Latin America's health sector finds itself today.