Free Report: The Best-Equipped Private Hospitals in Latin America
Since 2017 Global Health Intelligence (GHI) has been producing HospiRank, its ranking of the best-equipped hospitals in Latin America.
HospiRank focuses on all of the hospitals in the region and is created based on an analysis of public, mixed and private healthcare institutions in Latin America.
However, it's clear that public hospitals and clinics in Latin America are often much larger than private ones, so it's challenging to create a ranking that includes representative amounts of all types. Recently, El Hospital, Latin America's leading publication on hospitals and healthcare, approached GHI to create a ranking for just private hospitals. We used the data from our HospiScope database to create the ranking and shared the results in a webinar that we helped organize in partnership with El Hospital.
As a way to help medical equipment/devices companies, healthcare professionals and others to have a clearer sense of the resources available in LatAm's private hospitals, we have created this ranking report of the best-equipped private hospitals in Latin America.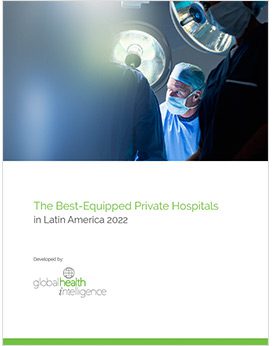 Please click here to download the report.
Next Steps
Contact GHI if you are interested in a deeper look at the sales opportunities available in the LatAm medical equipment market. We can provide this through our databases (such as HospiScope and SurgiScope), custom studies (available through InScope) and our LatAm Hospital Monitoring service.