2022 Latin America Hospital Data Portrait
As the region emerges from the pandemic and continues to face challenges from COVID, it's important for medical equipment/devices manufacturers to have solid quantitative understanding of the market. With that in mind, we have created this resource. Covering 16 markets, GHI's 2022 Latin American Hospital Data Portrait details key data points such as:
Number of hospitals, as well as the percentage that are public and private
Number of hospital beds
Number of operating rooms
Number of anesthesia machines
Number of C-arms
Number of linear accelerators
Number of MRI machines
Number of PET systems
Number of X-ray machines
And more. GHI's 2022 Latin American Hospital Data Portrait features equipment counts and other data for hospitals in Argentina, Bolivia, Brazil, Chile, Colombia, Dominican Republic, El Salvador, Honduras, Mexico, Peru, Uruguay and other countries.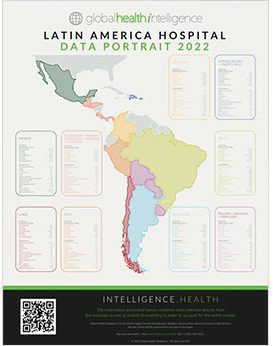 Click here to download the infographic.
Going further
Contact us to arrange for a customized study that will go much further in helping you understand the market you're targeting, such as opportunity benchmarking, competitive intelligence on your rivals, market share for dozens of product categories, number of surgeries performed and much more. Our market insights can deliver you objective data to complement/compare with what your sales team has and help you plan product launches, marketing campaigns and sales initiatives more strategically, using hard data reflecting what Latin American hospitals are currently dealing with, as well as their specific needs.