The Future of Telehealth in Latin America
Telehealth originated in the sixties with the arrival of new technology as an innovative way to solve problems of geography and access to health.
This technological innovation began with research conducted by NASA to be able to monitor the vital signs of its astronauts in its various space missions. Since its emergence and with the advent of the Internet, telehealth has grown exponentially.
The onset of the COVID-19 pandemic has significantly sped up the incorporation of this technological tool into clinical practice, and it is now viewed as a resource that helps organizational efficiency and access to health-care services, and improves quality of care.
Three principles of telehealth
Telecare: It offers health care remotely through the use of communication technologies. It therefore helps to improve access to health care for patients in remote locations.
Tele-education: A form of remote ongoing medical education that incorporates information and communication technologies into educational processes.
Telemanagement: It provides services for the management of organizational models and of pediatric health-care processes with its different specialties and disciplines. Latin America is an ideal scenario for the expansion of telehealth, although the lack of a regulatory framework restricts private sector expansion in the region. It is essential to involve both private and public hospitals with the right incentives, as telehealth in Latin America currently remains focused on general remote consultations with little specialization.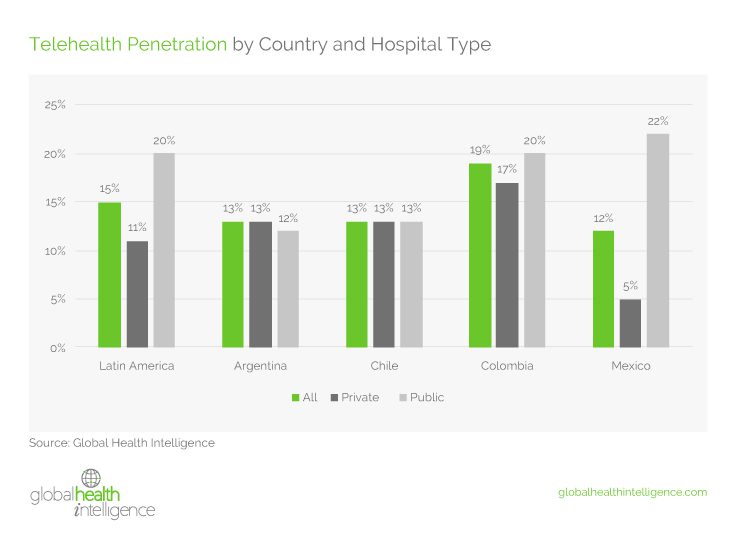 Telehealth should be part of an e-health strategy where hospitals can opt in to the telehealth field with a lower investment in specialties.
Clarifying "telehealth" terminology
Currently, within this specialty, we often see three descriptive terms being used: telemedicine, telecare, and telehealth. They do not mean the same thing, and below we clarify the differences between them.
Telehealth: This is the broadest term, as it refers to services of health information and education. In fact, telecare and telemedicine fall under the broader scope of the term "telehealth." Telehealth uses technologies and services to improve the health-care system as a whole, and it has a broader scope than remote health because it also includes non-clinical services, such as administrative meetings, health-provider training, or ongoing medical training.
Telecare: A term related to automatic technology that allows patients to maintain their medical care and safety from their homes. This technology includes a variety of mobile monitoring devices, medical alert systems, and telecommunications technology such as tablets, phones, and computers. With continuous remote monitoring of patients, telecare means the ability to monitor any type of lifestyle change over time. This monitoring can be done automatically so that the patient can carry on with their routine, while the sensors detect any early warning signs of a health issue.
Telemedicine: This forms part of telehealth services, the difference being that "telemedicine" refers specifically to the provision of health services through the use of telecommunications technology.
Telehealth looking forward
Bearing in mind that in 2021 the telehealth market had a global value of more than US$70.1 billion and is projected to have a compound annual growth rate (CAGR) of 18.7% between 2022 and 2028, this sector will clearly be receiving heavy investment in the near future.
However, in Latin America, expansion in telehealth has not been that robust to date. The region has many primary and secondary hospitals, but the significant investment telemedicine requires is normally made by specialist hospitals, which tend to have greater resources: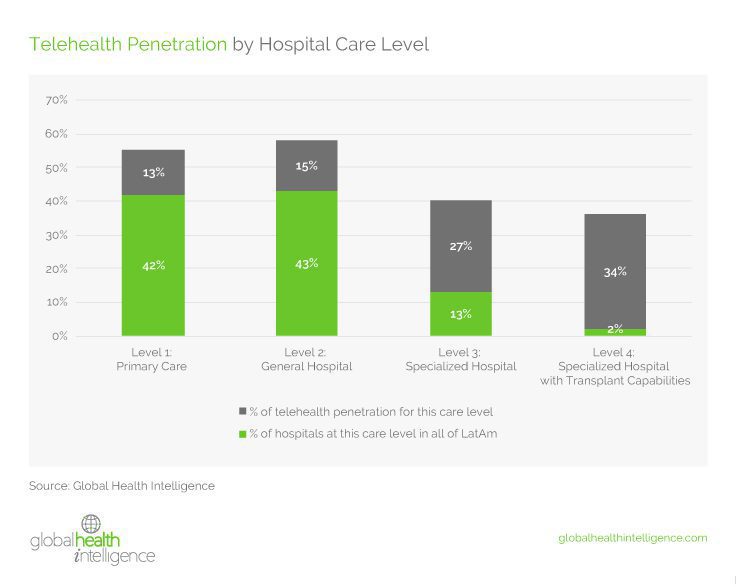 As this graphic we prepared shows, specialist hospitals have the highest levels of telehealth penetration—more or less double the telehealth penetration in primary and secondary hospitals, which together account for 85% of hospitals in Latin America.
However, the period from 2022 to 2027 offers strong potential for growth. According to IMACR Group, the CAGR of the telehealth market in Latin America between 2022 and 2027 will be 17.2%, almost in line with the strong CAGR forecast for telehealth globally during virtually the same period.
If this projection proves to be right, there is no doubt we will see how telehealth will provide new solutions, effectively optimizing physician/patient interaction times more and more, and integrating health-care workflows to reduce the time and effort that professionals need to spend using systems and entering data.
In addition, efficient use of telehealth in the future will allow more time to be spent with patients in person, improving their quality of life and reducing visits to emergency rooms and hospitalizations.
The main advantage telehealth offers us in the long term is the flexibility it will provide to traditional health systems and their patients, as it quickly expands the capacity for care and access to health. However, the great challenge that it presents relates to human and cultural barriers, and it will depend on the ability of physicians and patients to overcome these. Both need to be convinced of this technology. Doctors need to assimilate the fact that, in certain cases, it is more effective to provide a virtual consultation, and patients have a responsibility to change their habits and integrate with different platforms.
Once the barriers have been overcome, we will be closer to achieving an efficient telehealth system, or one that is even better than in-person care for some types of attention, such as monitoring patients undergoing long-term treatment.
Learn more
If you are interested in finding out more about telehealth in Latin America—along with the viewpoints of a panel of experts on the subject— you should register for our new webinar on July 21.
Guillaume Corpart—CEO of Global Health Intelligence—and a distinguished panel will be discussing telehealth's advances in Latin America, the barriers to its expansion, how hospitals in the region are taking advantage of this technology, and much more. Click on the banner below to register:

Next steps
Aside from the webinar, if your business or institution needs more details about telemedicine markets in specific Latin American countries, contact us to arrange a personalized market study for you. We can provide you with all the strategic data you need to enter these markets or expand your presence there.