The Best-Equipped Hospitals for Hosting Patients in the Dominican Republic
Several months ago we published HospiRank, our ranking of the best-equipped hospitals in Latin America in 7 key categories:
Best Equipped for Hosting Patients
Best Infrastructure for High Procedure Volume
Highest Counts of Surgical Equipment
Highest Focus on Cardiovascular Health
Best Installed Base for Treating Cancer
Most Diagnostic Imaging Equipment
Best Equipped for Accommodating Newborns
The data came from research done at the end of 2018 and the beginning of 2019.
However, our research team continually looks to verify data about hospitals to offer the most recent one using HospiScope, our Latin American hospitals database whose subscribers include some of the world's largest manufacturers of medical devices and equipment.
As such, we have new data that we obtained recently as part of our work on preparing HospiRank 2020.
Below we offer a partial sneak peek of HospiRank 2020 by sharing the list of hospitals that are best equipped for hosting patients in Dominican Republic: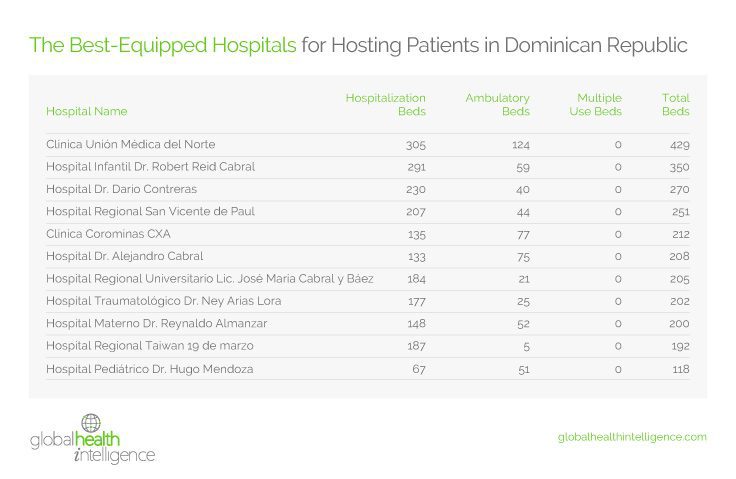 Now, it's important to note that HospiRank does not include all of the hospitals in Dominican Republic—or Latin America, for that matter. We obtain the data by contacting the hospitals directly and requesting it. But there are hospitals that refuse to participate and thus can't be included due to no data being registered for them.
If you represent one of the hospitals that were not included, feel free to contact us directly and our research team will gladly reach out to note down the data from your institution. In fact, since we're in the early stages of developing HospiRank 2020, right now is a good time to reach out to us to provide the data needed to include your institution in HospiRank.
Future data and future opportunities
Over the course of the next few months we'll be sharing more previews of HospiRank 2020 that show which are the best-equipped hospitals in Latin America. They'll be published here on our blog, so we recommend subscribing to it if you haven't do so already.
Beyond that data, marketing and sales teams from medical device/equipment companies can reach out to us to find out how HospiScope can help them identify new leads, find new targets for equipment launches, strengthen their CRMs and more.