HOSPITAL SPOTLIGHT | Hospital Universitario Austral: Toward Development of Innovative Solutions for Patient Care
By Daniela Chueke Perles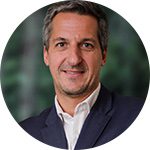 In an exclusive interview with the HospiRank team, Rafael Aragón, CEO of Hospital Universitario Austral, talks about the technological and IT innovations that characterize this hospital of excellence in Latin America, accredited by the Joint Commission International.
After more than two long years of coping with the COVID-19 pandemic, do you think things have finally improved for hospitals, and why do you think that is or isn't the case?
The pandemic drove us to change how the hospital functions, particularly during the most acute period, in spaces that were not intended for critical patients, when the capacity of those areas was doubled. Tools were also brought in to care for patients who weren't able to come to the hospital, from teleconsultations to telehealth, which saw their period of greatest use, and demonstrated the need to develop new solutions for remote patient follow-up, with devices such as wearables and solutions for remote early diagnosis. These are now being created, and the hospital aims to promote these new disciplines.
In addition, an extended operational board was consolidated, formed by nearly one hundred of the organization's leaders—out of a staff of 3,000—and it has remained in place as a work methodology. This structured interaction of all areas was adopted during the pandemic, when we couldn't allow ourselves not to be in communication with each other from our different areas. This enriched a leadership model in which we are more aware of the importance of all pushing together in the same direction.
Having overcome the challenges of the pandemic, what is the biggest challenge the hospital now has ahead of it?
The incorporation of new medicine, from medical technologies to treatments, comes with extremely high costs. Every patient feels entitled to say "I have a right to treatment," but these are sometimes experimental treatments with little scientific evidence, and [with] costs that are far too high. Current legislation is inconsistent with making a proper allocation of resources, for example, when a court ruling requires a single patient to be given treatment that costs a million dollars a month, perhaps without considering that this may leave 200,000 people without any treatment at all.
Does the hospital have plans for expansions, renovations, or new units?
Yes. As this is a university hospital, where we train doctors, we need to increase the number of beds—which is currently 220—to 400. We have 10 operating rooms and one obstetric floor, with one operating room for C-sections, and two delivery rooms. The planned extensions are in the emergency area; inpatient beds (critical pediatric inpatient areas, new adult inpatient floor, third-level hospitalization); a new outpatient surgery center; extension of the multipurpose day hospital, and international patient area; new low-complexity outpatient care centers in our area of influence; remote patient care; a simulation center; robotic surgery; and a 3D prosthetics planning center.
Are there any key factors driving hospitals like yours to purchase new medical equipment?
The order of priority is quality of the equipment, then technical support and service support. We look for equipment that is durable, and for there to be a quick response to problems. We can't have an MRI scanner left idle for three weeks because a spare part is unavailable in Argentina. That's where the supplier's commitment to having a stock of spare parts in the country ends up being relevant.
Are there any interesting new equipment purchases you have planned for 2022 and 2023?
We are continually renewing the low-complexity equipment—such as echocardiographic machines, ultrasound machines, monitors, or beds—because this equipment has an obsolescence of three to ten years, due to normal operational wear.
Several IT systems are in the process of implementation, selection, and procurement: electronic medical records; documentation management; governance management; bed management; Markey nutrition management; orderly management, and nursing care planning.
We are upgrading the high-complexity equipment; we are in the process of purchasing a PET scanner, and we just bought a MRI scanner and a gamma camera. The total purchase may have been around one and a half million dollars. The brands we use the most are General Electric and Philips, although we will be evaluating others.
What does Argentina have that is attractive to the global health industry?
We have good training with a good level of equipment. We are not at the cutting edge; we are not the market for the latest MRI scanner that costs US$2 million instead of US$700,000, but I do think it is a market worthy of exploring and of giving much more promotion to innovation within it. Also, it should take advantage of the medical knowledge in everything that has to do with research protocols, as we are a country that could be much more attractive in terms of innovation and development.
About Hospital Universitario Austral

Hospital Universitario Austral is an Argentine health care, teaching and biomedical research institution. It is considered one of the best hospitals in Argentina and is part of the Latin American Alliance of Health Institutions (ALIS) along with other leading hospitals in the region.