HOSPITAL SPOTLIGHT | Hospital Italiano: Carrying on with Its Expansion Plans
By Daniela Chueke Perles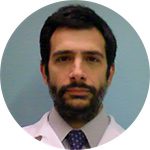 In an exclusive interview with the GHI team, Dr. Esteban Langlois—Deputy Chief Medical Officer for Strategic Planning in the Medical Department at Hospital Italiano de Buenos Aires—looks at the changes left behind by more than two years of pandemic on the Argentine health system, and on management of health organizations in Latin America. He expects a stage of slow recouping of the investments that, despite everything, are still planned in order to guarantee the quality that characterizes the clinic he leads.
After almost three years of coping with the COVID-19 pandemic, do you think things have finally improved for hospitals, and why do you think that is or isn't the case?
During the pandemic, there was a deterioration in the way the health system dealt with patients because the lockdown measures caused people to stop getting treated for problems that should not have gone untreated. In 2021, during the second wave of the pandemic, we were given more freedom to treat patients, but the fear of catching it had already taken hold, so people remained shut away at home when in fact they should have started seeking treatment again.
In 2022, when the hospital returned to normal, it experienced a delay in the regularity of patient care. This is why we are seeing a rebound, where everyone wants to catch up on their health checks and there is an appointment backlog. We now have the challenge of responding to bottled-up demand.
Does the hospital have plans for expansions, renovations, or new units?
We were making progress with construction work that began five years ago and was delayed during the pandemic lockdown. We are installing new operating rooms, more doctors' offices, and a new intensive-care area. The building expansion covers 1,500 square meters, and will incorporate 80 new care units, including doctors' offices, operating rooms, and an intensive care unit. To equip it, we bought new medical equipment: 15 surgical beds, 10 anesthesia tables, 15 monitors, 3 audiology booths, and 2 C-arms. The inauguration will take place in stages. The first was in April 2021, and the next one is scheduled for May. If no further setbacks occur, the building will be completed in December 2022.
Are there any key factors driving hospitals like yours to buy new medical equipment?
What we always look for when making technology investments is financing. That allows us to get the equipment without having to make the upfront payment. In addition, although it is not a common practice in Argentina, we find the leasing model an attractive one as the cost of the equipment gets paid for through its productivity. Of course, only companies with the capital to pay for equipment upfront can offer this.  Another condition we are looking at is the availability and quality of service support.
Are there any interesting new equipment purchases you have planned for 2022 and 2023?
For the first half of the year [2022], we plan to invest 200 million pesos (roughly 1.8 million dollars) in equipment alone. After that, we will see if the hospital is profitable enough to support itself or if we need to take out a loan. But today, the situation is not the same as it was six years ago. In the years after the country's crisis in 2001, the hospital had a huge economic recovery and was able to make a large number of investments. Given that, as a non-profit, the hospital has no shareholders to withdraw the profits, everything gets reinvested, and that's a big advantage we have in order to keep growing.
And in terms of specific plans, what are you considering buying?
We already have top-of-the-range technology in all the equipment, so the challenge is to maintain and renew it. The worry for us is always whether we will have good service support. It's essential. Drägeras used to be virtually our only brand of respirators, and the service support is very good.  We are equipping new operating rooms with Mindray, a Chinese brand that won the procurement tender through its pricing. The equipment is good, and at the moment, they are coming through with the service support. We hope they continue to do so, because if we are left without service support we can't function.
What is the hospital's most important high-complexity treatment, and how do you maintain excellence?
We are the best at liver transplants, especially pediatric liver transplants. It doesn't require specific equipment, but it does require trained professionals in both hepatology and hepatobiliary surgery who know the current best practices. The other type of transplant we manage in the hospital is bone marrow. We have one adult program and another pediatric program, with excellent results. Bone marrow transplantation does require special technology and equipment, as well as facilities to treat patients.
About the Hospital Italiano de Buenos Aires
The Hospital Italiano de Buenos Aires is a non-profit civil association that, since 1853, has been providing medical care, training undergraduate and graduate students, and conducting basic, clinical and population-based research. It offers more than 40 medical specialties and has a complete diagnostic and treatment team, as well as a renowned professional staff.