Dr. Guillermo Grant Benavente Regional Hospital of Concepción: "Chile's largest tertiary referral hospital, and a pilot center for various actions"
By Daniela Chueke Perles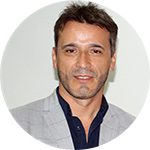 Dr. Guillermo Grant Benavente Regional Hospital of Concepción (known as "HGGB" for short) is the most complex public health company in the Biobío region and provides the greatest number of services to its beneficiary population. Claudio Baeza Avello, CEO of HGGB, spoke with HospiRank to tell us about the challenges of running one of Chile's best-equipped hospitals.
What is the main challenge facing the hospital in 2023?
We are making progress on having the country's entire portfolio of tertiary health care services. We serve not only the Biobío region but also receive referral patients coming from such distant locations as Puerto Montt, over 500 kilometers away. We are working on increasing treatment for high-complexity conditions, and we are transforming the hospital: we currently treat high-complexity heart, urological, and pediatric conditions. We are the referral hospital for the Biobío region in these diseases, so we receive referrals from other regions (Ñuble, Araucanía, and in some cases, Santiago)
Your hospital has been ranked as one of the best equipped in the country. What are some of the main types of medical equipment your hospital needs to buy or replace on a regular basis?
We have a modern set of high-complexity equipment and a budget for this year to replace equipment of around 6 billion Chilean pesos, equivalent to 7.8 million dollars. We have made progress in replacing state-of-the-art technology, particularly in the most complex specialties like cardiovascular surgery. We are making progress in inter-institutional improvement projects, such as the coordination we have with the Las Higueras Hospital to replace the linear accelerator. We also have a very interesting local project to replace the scanner in the imaging unit. We are planning to replace the operating microscope for the neurosurgery service, to expand our development in this specialty.
Does the hospital have plans for expansions, renovations, or new units?
To replace the scanner and MRI unit requires readjustments, which are considered in the procurement projects. We are making progress primarily in the replacements project. In our inpatient building, which dates back to 1943, there are two infrastructure improvement projects in varying stages of tendering and execution: one will provide all beds with three gas lines (air, oxygen, and vacuum); the other is to fit bathroom stalls in each room to improve the standard and quality of care.
As far as selecting a particular brand, supplier, or type of equipment goes, what are your decision-making processes, and what factors do you prioritize when it comes time to choose?
We have no favorite brands or rigid processes, but we do prioritize equipment with certain characteristics detailed by the specialists in the technical specifications we set out in our tenders for suppliers. We assess whether the equipment meets all the characteristics that we set out and whether the post-sales service is satisfactory, in other words, callouts, fast maintenance, and training for operating the equipment.
What challenges are you facing right now?
I believe we have three big challenges. First, to treat complex conditions in southern Chile in the fields of cardiology, pediatrics, and obstetrics, and develop a service portfolio that can meet the demand. A second challenge is to be part of the Biobío region health care network and be involved with them in the process of developing other hospitals in the network.
Another major challenge is to clear the waiting list we have in our region: 40,000 people are waiting for specialist treatment, and nearly 10,000 people are awaiting surgery. We therefore need to improve the surgical processes and increase ward hours to be able to operate on our patients and to provide them with specialist treatment. The third challenge is to upgrade and improve the infrastructure we have in a hospital whose infrastructure, or part of it, is quite old and needs upgrading to generate processes.
What recommendation would you give to suppliers, the pharmaceutical industry, or colleges in terms of what the hospital needs?
Current technology has been advancing concerning health. There are new processes, robotic surgery, and devices will become more and more specific. We are ready to find out what the companies leading these developments want to show us because we know that by working with them we can improve not only patient outcomes but also undertake quality processes for the people treated at our hospital. We are ready to generate innovation and development and to participate with them.