The Best-Equipped Hospitals in Mexico 2022

The ranking of the best-equipped hospitals in Mexico was developed by Global Health Intelligence (GHI) using HospiScope—our unique Latin American hospital database—which tracks crucial information about hospital infrastructure and equipment.
One significant challenge facing hospitals and institutions in Latin America is that there is very little current, trustworthy information available about hospitals. This is what led us to create HospiScope and later HospiRank.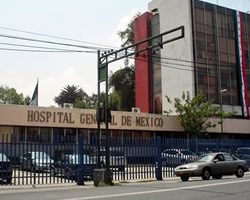 HOSPITAL GENERAL DE MÉXICO
The Best-Equipped Hospitals in Mexico for Hosting Patients
(total number of beds)
| | | |
| --- | --- | --- |
| 1 | HOSPITAL GENERAL DE MÉXICO DOCTOR EDUARDO LICEAGA | 1,110 |
| 2 | HOSPITAL CIVIL DE GUADALAJARA FRAY ANTONIO ALCALDE | 1,057 |
| 3 | HOSPITAL CENTRAL MILITAR | 792 |
| 4 | HOSPITAL UNIVERSITARIO DR. JOSÉ ELEUTERIO GONZÁLEZ | 766 |
| 5 | HOSPITAL CIVIL DE GUADALAJARA JUAN I. MENCHACA | 760 |
| 6 | HOSPITAL DE TRAUMATOLOGÍA MAGDALENA SALINAS DOCTOR VICTORIO DE LA FUENTE NARVÁEZ | 638 |
| 7 | HOSPITAL GENERAL REGIONAL 46 GUADALAJARA | 621 |
| 8 | HOSPITAL JUÁREZ DE MÉXICO | 615 |
| 9 | HOSPITAL CENTRO MEDICO LA RAZA | 566 |
| 10 | HOSPITAL GENERAL REGIONAL 110 OBLATOS | 544 |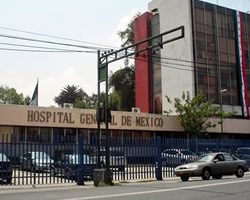 HOSPITAL GENERAL DE MÉXICO DOCTOR EDUARDO LICEAGA
The Hospitals in Mexico with the Best Infrastructure for High Procedure Volume
(total number of general operating rooms)
| | | |
| --- | --- | --- |
| 1 | HOSPITAL GENERAL DE MÉXICO DOCTOR EDUARDO LICEAGA | 50 |
| 2 | HOSPITAL UNIVERSITARIO DR. JOSÉ ELEUTERIO GONZÁLEZ | 34 |
| 3 | HOSPITAL DE TRAUMATOLOGÍA MAGDALENA SALINAS DOCTOR VICTORIO DE LA FUENTE NARVÁEZ | 33 |
| 4 | HOSPITAL CIVIL DE GUADALAJARA FRAY ANTONIO ALCALDE | 29 |
| 5 | HOSPITAL ESPAÑOL | 26 |
| 6 | HOSPITAL CENTRAL MILITAR | 22 |
| 7 | HOSPITAL ÁNGELES PEDREGAL | 21 |
| 8 | HOSPITAL CIVIL DE GUADALAJARA JUAN I. MENCHACA | 19 |
| 9 | CENTRO MÉDICO NACIONAL 20 DE NOVIEMBRE | 18 |
| 10 | UMAE HOSPITAL DE GINECO OBSTETRICIA Nº 4 LUIS CASTELAZO AYALA | 12 |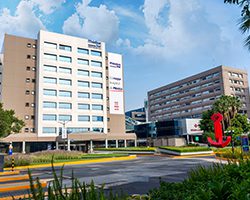 The Hospitals in Mexico with the Highest Counts of Surgical Equipment
(total number of surgical equipment)
| | | |
| --- | --- | --- |
| 1 | HOSPITAL GENERAL DE MÉXICO DOCTOR EDUARDO LICEAGA | 109 |
| 2 | HOSPITAL CIVIL DE GUADALAJARA FRAY ANTONIO ALCALDE | 105 |
| 3 | HOSPITAL DE TRAUMATOLOGÍA MAGDALENA SALINAS DOCTOR VICTORIO DE LA FUENTE NARVÁEZ | 98 |
| 4 | MÉDICA SUR | 90 |
| 5 | HOSPITAL CIVIL DE GUADALAJARA JUAN I. MENCHACA | 82 |
| 6 | HOSPITAL ESPAÑOL | 82 |
| 7 | INSTITUTO NACIONAL DE REHABILITACIÓN | 79 |
| 8 | HOSPITAL JUÁREZ DE MÉXICO | 78 |
| 9 | HOSPITAL UNIVERSITARIO DR. JOSÉ ELEUTERIO GONZÁLEZ | 70 |
| 10 | UMAE HOSPITAL DE GINECO OBSTETRICIA Nº 4 LUIS CASTELAZO AYALA | 52 |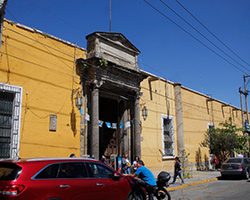 HOSPITAL CIVIL DE GUADALAJARA JUAN I. MENCHACA
Best-Equipped Hospitals in Mexico for Accommodating Newborns
(total number of maternity equipment)
| | | |
| --- | --- | --- |
| 1 | HOSPITAL CIVIL DE GUADALAJARA JUAN I. MENCHACA | 136 |
| 2 | HOSPITAL GENERAL DE MÉXICO DOCTOR EDUARDO LICEAGA | 99 |
| 3 | INSTITUTO NACIONAL DE PERINATOLOGÍA ISIDRO ESPINOSA DE LOS REYES | 95 |
| 4 | HOSPITAL CIVIL DE GUADALAJARA FRAY ANTONIO ALCALDE | 94 |
| 5 | HOSPITAL MILITAR DE ESPECIALIDADES DE LA MUJER Y NEONATOLOGÍA | 80 |
| 6 | HOSPITAL DE ALTA ESPECIALIDAD MATERNO INFANTIL MONTERREY | 79 |
| 7 | HOSPITAL GENERAL PACHUCA | 76 |
| 8 | UMAE HOSPITAL DE GINECO OBSTETRICIA Nº 4 LUIS CASTELAZO AYALA | 61 |
| 9 | HOSPITAL DE GINECOLOGÍA Y PEDIATRÍA Nº 48 LEÓN | 60 |
| 10 | HOSPITAL DE GINECO OBSTETRICIA Nº 3 DEL CENTRO MÉDICO NACIONAL LA RAZA | 60 |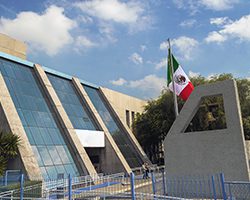 HOSPITAL JUÁREZ DE MÉXICO
Best-Equipped Hospitals in Mexico for Primary Diagnostics
(total number of primary diagnosis equipment)
| | | |
| --- | --- | --- |
| 1 | HOSPITAL GENERAL DE MÉXICO DOCTOR EDUARDO LICEAGA | 129 |
| 2 | HOSPITAL CIVIL DE GUADALAJARA FRAY ANTONIO ALCALDE | 86 |
| 3 | HOSPITAL JUÁREZ DE MÉXICO | 74 |
| 4 | INSTITUTO NACIONAL DE CARDIOLOGÍA IGNACIO CHÁVEZ | 69 |
| 5 | CENTRO MÉDICO NACIONAL 20 DE NOVIEMBRE | 69 |
| 6 | ISSSTE HOSPITAL REGIONAL GRAL. IGNACIO ZARAGOZA | 68 |
| 7 | HOSPITAL CIVIL DE GUADALAJARA JUAN I. MENCHACA | 60 |
| 8 | INSTITUTO NACIONAL DE REHABILITACIÓN | 54 |
| 9 | UMAE HOSPITAL DE CARDIOLOGÍA 34 IMSS | 49 |
| 10 | HOSPITAL DE ESPECIALIDADES DR. ANTONIO FRAGA MOURET DEL CENTRO MÉDICO LA RAZA | 48 |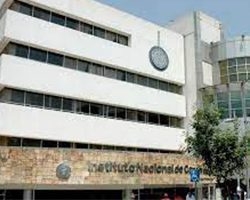 INSTITUTO NACIONAL DE CANCEROLOGÍA
Best Installed Base in Mexico for Treating Cancer
(total number of oncology equipment)
| | | |
| --- | --- | --- |
| 1 | INSTITUTO NACIONAL DE CANCEROLOGÍA | 12 |
| 2 | HOSPITAL UNIVERSITARIO DR. JOSÉ ELEUTERIO GONZÁLEZ | 8 |
| 3 | HOSPITAL CENTRAL MILITAR | 8 |
| 4 | HOSPITAL GENERAL DE MÉXICO DOCTOR EDUARDO LICEAGA | 7 |
| 5 | HOSPITAL DE ONCOLOGÍA CENTRO MÉDICO NACIONAL SIGLO XXI | 6 |
| 6 | HOSPITAL MÉDICA SUR | 6 |
| 7 | HOSPITAL DE ESPECIALIDADES PUEBLA | 5 |
| 8 | HOSPITAL ZAMBRANO HELLION | 5 |
| 9 | HOSPITAL JUÁREZ DE MÉXICO | 4 |
| 10 | CENTRO ONCOLÓGICO ESTATAL ISSEMYM | 4 |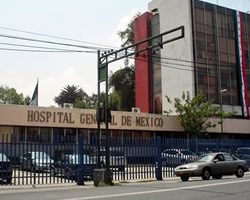 HOSPITAL GENERAL DE MÉXICO DOCTOR EDUARDO LICEAGA
Best-Equipped Hospitals in Mexico for Advanced Diagnostic Imaging
(total number of advanced diagnostic imaging equipment)
| | | |
| --- | --- | --- |
| 1 | HOSPITAL GENERAL DE MÉXICO DOCTOR EDUARDO LICEAGA | 18 |
| 2 | HOSPITAL CENTRAL MILITAR | 16 |
| 3 | CENTRO MÉDICO NACIONAL 20 DE NOVIEMBRE | 16 |
| 4 | HOSPITAL ESPAÑOL | 14 |
| 5 | INSTITUTO NACIONAL DE CANCEROLOGÍA | 14 |
| 6 | UMAE HOSPITAL DE CARDIOLOGÍA 34 IMSS | 14 |
| 7 | INSTITUTO NACIONAL DE CARDIOLOGÍA IGNACIO CHÁVEZ | 13 |
| 8 | UMAE HOSPITAL DE TRAUMATOLOGÍA Y ORTOPEDIA LOMAS VERDES | 13 |
| 9 | HOSPITAL DE ESPECIALIDADES PUEBLA | 13 |
| 10 | HOSPITAL MÉDICA SUR | 12 |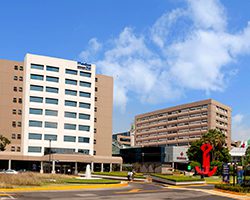 Best-Equipped Hospitals in Mexico for High-Risk Patients
(total number of advanced equipment)
| | | |
| --- | --- | --- |
| 1 | HOSPITAL CIVIL DE GUADALAJARA FRAY ANTONIO ALCALDE | 1,589 |
| 2 | MÉDICA SUR | 1,269 |
| 3 | HOSPITAL CIVIL DE GUADALAJARA JUAN I. MENCHACA | 1,153 |
| 4 | HOSPITAL GENERAL DE MÉXICO DOCTOR EDUARDO LICEAGA | 1,137 |
| 5 | HOSPITAL ESPAÑOL | 945 |
| 6 | HOSPITAL JUÁREZ DE MÉXICO | 590 |
| 7 | INSTITUTO NACIONAL DE CARDIOLOGÍA IGNACIO CHÁVEZ | 576 |
| 8 | HOSPITAL GENERAL REGIONAL 46 GUADALAJARA | 456 |
| 9 | HOSPITAL INFANTIL DEL ESTADO DE SONORA DRA. LUISA MARÍA GODOY OLVERA | 455 |
| 10 | HOSPITAL GENERAL DE ZONA CON MEDICINA FAMILIAR Nº 6 NICOLÁS GARZA | 429 |