The Best-Equipped Hospitals in Latin America in 2019
We just released the latest version of HospiRank in which we offer a list of the best-equipped hospitals in Argentina, Brazil, Chile, Colombia, Dominican Republic, Mexico, Peru and Puerto Rico. The results come from analyzing our HospiScope database, since one of the fundamental aspects of HospiScope is tracking base installed equipment counts in Latin American hospitals. So for HospiRank, we looked at the hospitals with the most types of equipment in seven key areas:
Hosting patients
Handling high procedure volume
Highest counts of surgical equipment
Highest focus on cardiovascular health
Installed base for treating dancer
Diagnostic imaging equipment counts
Accommodating newborns
We focused on these 8 countries because they are among the largest hospital markets in LatAm and because we have been tracking them for several years, and so have the most data on them. Now, it's important to understand that "best-equipped hospitals in Latin America" does not mean "top hospitals in Latin America" or "top hospitals in Argentina, Brazil, Chile, Colombia, Dominican Republic, Mexico, Peru and Puerto Rico." We are not making a qualitative assessment with HospiRank and are instead focused on the quantitative aspect as revealed by the Latin American healthcare market research we have compiled, since our team constantly refreshes our database with new information.
How HospiRank Can Help
Our purpose in releasing the report is to offer some helpful data about LatAm hospitals to help healthcare professionals and patients. Medical device/equipment manufacturers that focus on the market in Latin America (or just Brazil, Mexico or Argentina, for example), can use HospiRank to understand which hospitals have the most base installed equipment and could very well be strong sales prospects for specific products, such as ventilators, MRI machines, etc.
Hospital administrators based in Argentina, Brazil, Chile, Colombia, Dominican Republic, Mexico, Peru and Puerto Rico can use HospiRank to get a sense of how well-equipped their partners or competitors are. And if they are included in HospiRank, they may find that this is helpful in their public relations efforts. In addition, we hope that HospiRank can be useful for patients who seek to understand the resources available at the hospitals in their countries.
Getting Included in HospiRank
Now, it's important to note that HospiRank rankings are based on data from HospiScope. While
HospiScope includes nearly 90% of the hospitals in Latin America, not all are included. As such, hospital administrators and healthcare professionals may not see their hospitals included in HospiRank. In the large majority of cases, these omissions are due to hospitals refusing to divulge information to our research team when we contact them. We gather the information for HospiScope and HospiRank directly from hospitals, but not all agree to provide information. However, if you would like to have your hospital included, feel free to contact us at info@globalhealthintelligence.com and we can arrange for our research team to contact you to obtain your data and include you in a future edition of HospiRank.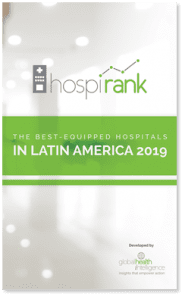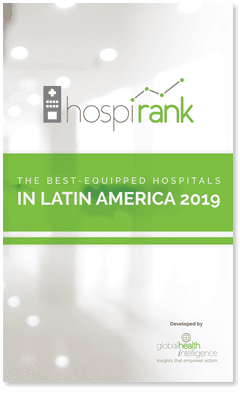 Obtaining the HospiRank Report
You will receive a report highlighting the top 5 hospitals in all 8 countries in each of the 7 categories we focus on.