Knowing your market share is crucial to mapping out your marketing strategy in the short or long term.
InstaScope gives you objective, unbiased insight into where your brand stands.
Until now, calculating
market share for medical equipment/device manufacturers

in Latin American market has involved lots of guesswork.

While teams often know markets well, their impressions are not the same as objective numbers from hospitals indicating the manufacturer and model of the equipment they operate as part of their installed base.

At GHI we track this data and now with InstaScope, for the first time, companies can see their objective market shares in 13 Latin American markets for 40 different types of equipment and devices in each market, including:
Anesthesia machines
Angiograms
Bone densitometers
C-Arms
CT scanners
Echocardiograms
Endoscopy machines
Gamma cameras
Hemodialysis machines
Infusion pumps
Linear accelerators
Mammography systems
MRI machines
Surgical equipment
Ultrasound machines
Ventilators
X-ray machines
Markets Covered

by InstaScope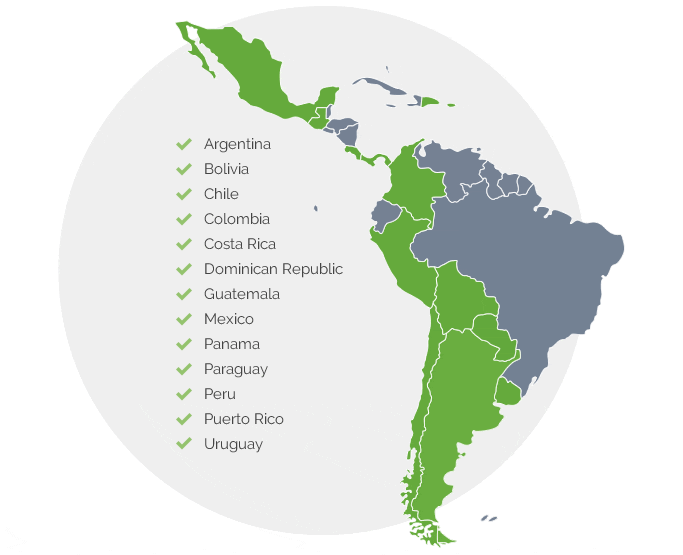 How It Works
Using InstaScope is simple.
You decide the equipment type and market of interest — then contact us.
We'll process your payment and deliver your report.
That's it.
So for example, if your area of interest is MRI machines in Colombia, you'd request an MRI report for Colombia from InstaScope. Once your payment is processed, you'll receive a detailed report showing:
Market share for different MRI machine manufacturers in Colombia, showing the top brands for this equipment category in this market
A breakdown of the leading manufacturers and models of MRI machines in Colombia
The top hospitals in Colombia that have the most MRI machines—and how many each one has

How This Helps
InstaScope data will help you:
SET


Market share could influence your marketing budgets—or even justify greater investment to defeat a close competitor in a specific vertical

DEFINE

The top hospitals that own a particular equipment type could be good sales targets for upgrades or new product launches

PLAN


Your market share gives you a real-world read on where you are and can serve as a cornerstone for developing your strategic planning
Incisive Analysis + Latest Industry Developments
Our GHI Analysis section brings a fresh and focused perspective on LatAm´s dynamic healthcare industry to help you identify opportunities and grow in emerging markets.