Current projections indicate that healthcare spending in the Asia-Pacific region will grow by an annual average of 6.6% through 2019.
India will see the biggest growth at a rate of 16.1% in this time period, while China´s healthcare spending will increase by an average of 8.8% per year and total nearly $900 billion in 2019 compared to less than $600 billion in 2014.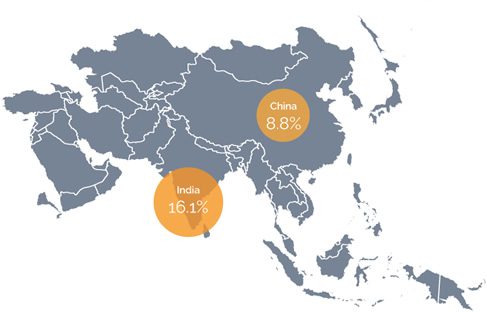 Moreover, projections indicate that 11% of the Asia-Pacific population will be 65 or older by 2019, creating more demand for healthcare services.
In fact, some estimates indicate that the Asia-Pacific healthcare market will require more than 180 million new hospital beds over the next decade to meet this rising demand.
Due to this growth, Global Health Intelligence (GHI) also features an Asian hospitals database and customized research to cover these key markets, including:
Australia
China
India
Indonesia
Malaysia
Philippines
Singapore
Vietnam
Contact us for more information.
Incisive Analysis + Latest Industry Developments
Our GHI Analysis section brings a fresh and focused perspective on LatAm´s dynamic healthcare industry to help you identify opportunities and grow in emerging markets.